Bihar: Medical Fraternity Up against Journalist for Entering ICU, Heckling Doctor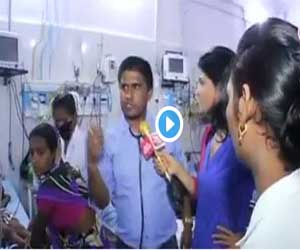 Bihar: Doctors from across the country were up against the action of a journalist, Anjana Om Kashyap whose live broadcast on Bihar's Acute Encephalitis Syndrome from Shri Krishna Medical College Hospital in Muzaffarpur was seen sharply questioning a doctor on how they are handling the situation.
As the hundreds of children in the state' hospitals struggle in the grip of suspected Acute Encephalitis Syndrome (AES), the medical practitioners in the government hospitals are indeed making all efforts with the limited resources. The live broadcast, on the other hand appeared to be stopping one doctor, in the midst of his rounds in the ICU to question him how he was going to take the next patient
The doctor, who already seemed overworked, tried his best to handle the situation. The broadcast, soon saw the wrath of medical practitioners and public alike who took to social media platforms to remind her about ICU etiquettes as well as the struggles that doctors in government hospitals everyday have to go through.



This is journalism of courage by @aajtak. Heckling the nurses and doctors and creating nuisance inside a hospital award. If they show even one hundredth of this aggression in questioning politicians, then it'd be quite an achievement. pic.twitter.com/BSEyiwNnTZ


— Pratik Sinha (@free_thinker) June 18, 2019



#AnjanaOmKashyap is the prime example of worst journalism.Whole india saw how she misbehaved with doctor who ws working in hospital. If threatening is journalism thn shut down @aajtak kind news channel. D news channel authority should take strict action against @anjanaomkashyap pic.twitter.com/TSyee5QoWh


— Abhishek (@Abhishe93472758) June 19, 2019
The doctors were seen taking to twitter to remind everyone, what conditions under which they work.



Doctors in India are under staffed under paid and over worked. To save people like you. With minimal resources and funds doctors do everything possible to save lives! Sacrificing everything!


— Dr. Pooja kulkarni (@pitu_sk) June 20, 2019



This is the heights of dirty journalism,look at that poor doctor he is all worked up.The journalist is interfering in the work.Which hospital allows any unauthorized personnel inside ICUs.Very sad state of affair @aajtak such a shameful journalism. @anjanaomkashyap pic.twitter.com/4PfYhQfw78


— Dr.Uzair (@DrUzair134) June 20, 2019



Reply Must pic.twitter.com/uVFpu4pPoE


— Dr Uday Jadhav (@DrUdayJadhav1) June 20, 2019
Many medicos also invited her to the NIPAH ward in kerala, where suspected patients of NIPAH, a highly contagious disease are ket in isolation, while others condemned her on the report



Welcome @anjanaomkashyap To "Nipah Ward Kerala" with Camera If you have guts.....#shameonanjanaomkashyap #AnjanaOmKashyap


— Simran Singh (@Dr_SimranSingh) June 20, 2019



Shame on u @anjanaomkashyap pic.twitter.com/qPAyDYs136


— Abu Farhan (@AbuFarh70766069) June 20, 2019
Doctors also called for the Boycott of the Channel AajTak, to which the journalist is associated with



Medical fraternity has decided to boycott @aajtak bcz of @anjanaomkashyap #boycottaajtak #spreadinghatredtowardsdocs


— UNITED RDA (@UnitedRda) June 20, 2019
AES has taken more than 100+ children's lives in the state.