Bihar: Six patients reported dead amidst Junior Doctors strike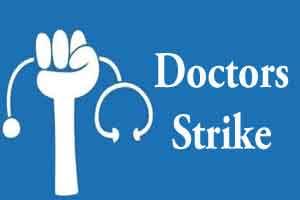 Six patients have died for want of treatment since junior doctors at the Patna Medical College and Hospital (PMCH) struck work demanding security, officials said.
"In the last 48 hours, six patients have died due to lack of treatment following the strike by PMCH junior doctors," an official said.
Striking junior doctors are adamant not to resume work unless adequate security was provided to them.
They went on the strike late on Sunday night after a pitched battle with attendants of a youth who died at the hospital.
Meanwhile, hundreds of patients, mostly the poor, who arrived at the hospital from across the State, were worried over no medical facilities being provided to them.
"We are the real victims of the strike because there is no doctor to attend to patients," said Avadesh Mandal of Samastipur district who came here four days ago to get his brother treated in the PMCH.
Similarly, Mahesh Paswan was worried for his wife's health. He said: "No doctor, no nurse to give injections to patients... what more can I say, we are at the mercy of god."
Most wards of the hospital wore a deserted look as most patients were forced to shift to private nursing homes. "Those who cannot afford treatment outside have been left in the lurch and are awaiting treatment," a nurse said.