Bill Gates calls on health minister, discusses health system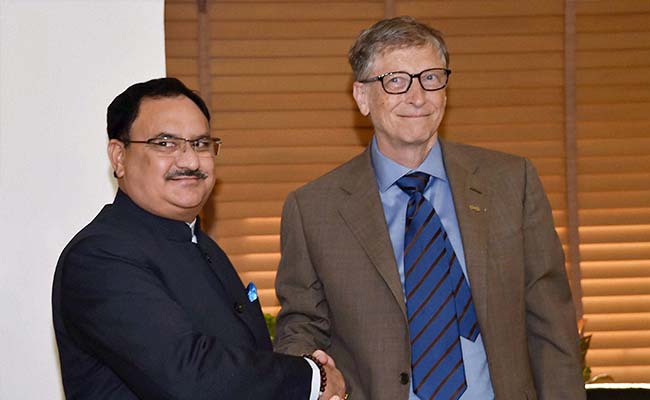 Mr. Bill Gates, Co-Chair & Trustee, Bill and Melinda Gates Foundation called on the Union Minister for Health & Family Welfare, Shri J P Nadda and discussed various issues relating to the health sector in India. During the meeting, Mr. Gates expressed appreciation for the initiatives taken by the Ministry towards strengthening the health systems, particularly in the primary health care, in addition to the success of full immunization through Mission Indradhanush, the India launch of Inactivate Polio Vaccine (IPV) on 30th November and the resolve and commitment to launch new vaccines to protect the children and India's population from various diseases.

The Health Minister Shri J P Nadda said, "We are looking forward to develop synergies and to use expertise of the Bill and Melinda Gates Foundation (BMGF) in crucial health related issues. The Gates Foundation can play an important role in capacity building and enhancing the investment for the health sector in India."

The Health Minister appreciated the efforts of Gates Foundation in complimenting the efforts of the Government in the Health Sector, which has enhanced the capacity of the health workers for more effective implementation of the projects.

The Health Minister elaborated on the new initiatives of the Government such as Mission Indradhanush aimed to cover all missed-out and left-out children with cover of full immunization and the successes within the nation-wide initiative, the launch of new vaccines including Pentavalent, Pneumococcal, Rota Virus and the adult JE vaccine.

During the meeting, it was agreed that BMGF will support the Ministry in strengthening health systems further in order to enhance the capacity within the sector and to reduce out-of-pocket expenditure.

Mr. Gates stated: 'India has made significant progress in improving access to healthcare services, and I believe the country has the political will and creative thinking to come up with solutions of transformative healthcare models that work for all its people, especially women and children so that they survive, thrive and reach their full potential. We look forward to working with the government to strengthen primary healthcare, which is key to accelerating health outcomes for every woman and child in India.'

During the meeting with the Health Minister, Mr. Bill Gates expressed appreciation for the switch from DDT to Synthetic Pyrethroid (SP) in some districts for fighting Kala Azar in the affected districts, the expanded choice provided to women through the injectable contraceptives under the reproductive health sector, and India's attention to the nutrition issues.