Health Alert against Bird flu Outbreak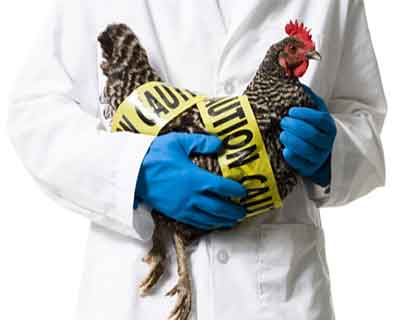 New Delhi: With birds in some parts of the country testing positive for avian influenza, the Centre issued a health advisory to states asking them to minimise bird-human interface to prevent an outbreak of bird flu.
Birds in Delhi, Gwalior (Madhya Pradesh) and Kerala have tested positive avian influenza AH5N8, which according to the World Health Organisation (WHO), is considered less risky of being transmitted to humans. But the government is taking no chances.
In view of the WHO report describing AH5N8 as less risky of being transmitted, Animal Husbandry Secretary Devendra Chaudhary said there would be no impact on poultry trade.
"On the public health risk of avian influenza AH5N8, World Health Organisation has informed that 'based on the current knowledge the risk of zoonotic transmission is considered low for H5N8' for human population," Mishra said.
Briefing media about the situation, the Animal Husbandry Secretary said that 45 samples from Delhi were received by the National Institute of High Security Animal Disease (NIHSAD), Bhopal and out of that 13 have tested positive for AH5N8.
Rest 32 samples tested negative but these samples are now being tested for some other virus.
"Advisories have been issued by our department as well as the Health Ministry to all states," he said, asserting that the situation is under control.
Chaudhary said the three states have been asked to follow the 'Action Plan of Animal Husbandry for Preparedness, Control and Containment of Avian Influenza', which was released by the Centre in 2015.
Asked about the opening of the National Zoological Park in Delhi, he said the decision on this matter can be taken after 45 days.
"As per the protocol, there should be random sampling and surveillance for 45 days and only after then a decision can be taken on opening of the place," he added.
In Delhi, two more ducks succumbed to suspected avian influenza, taking the toll to 66. In Kerala, the outbreak of the virus in ducks has been confirmed after some samples tested positive.