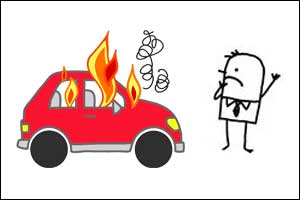 Belagavi/Kalaburgi, Andhra Pradesh: In what can be termed as extremely bizarre, police have now caught the culprit who was setting fire to many cars, many belonging to doctors in the area, only to find that the man is a doctor himself.
The culprit, assumed by the police to be behind the various acts in the Kalaburgi and Belagavi area has been identified as Dr Amit Gaikwad, an assistant professor at Belagavi Institute of Medical Sciences (BIMS) and originally hails from Kalaburagi.
He was caught red-handed attempting to set a car on fire by a security guard at the Visvesvaraya Nagar, Belagavi. When the police reached the spot they recovered various apparatus for causing fire including camphor, engine oil, old rags, matchboxes, a lighter and knives. Police further informed the Hindu, that in the past two days he had set fire to 11 cars in the Jadhav Nagar and the Military Camp and they also suspected him to be the culprit behind the 8 cars being set on fire in the Kalaburgi District.
Medical Dialogues team had earlier reported that on Sunday, a doctor's car was set on fire by unidentified miscreants while it was parked outside his hospital in Kalaburgi. The victim whose car was set on fire informed the media that this was eight such incident being reported with the majority of cars that are being set on fire belonging to medical practitioners.
Read Also: Doctor's Car Set on Fire outside Hospital, 8th such incident in area
Modus Operandi
The Police officials in the area stated that the doctor, who is presumed to be suffering from some "unresolved psychological issues" would go out at around 3-4 am early morning, wearing a hooded t-shirt to avoid being caught on CCTV camera. He would pour oil into the car bonnet, set fire to a piece of camphor and throw it inside the bonnet, and the engine would catch fire immediately, the police told Hindu.
The police also informed that while he was caught in the act, he spoke very less during the investigation neither accepting nor denying his act, but only stating that he has a receipt for the camphor he bought
1 comment(s) on Bizzare: Assistant Professor at Medical College caught setting cars of fire