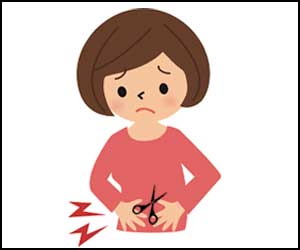 Hyderabad: In a case of medical blunder, doctors at the Nizams Institute of Medical Sciences (NIMS) left a pair of scissors inside a patient's stomach after operating on her for a hernia repair. While the patient was re-operated earlier this week to remove the scissors, the local police have booked a case against the doctors.
The incident came to light after the patient complained of severe stomach ache following which she was scanned. The scan reports revealed an artery forceps or clamps firmly embedded in her stomach.
The case relates to a 33-year-old woman who was suffering from a hernia. On November 1, she underwent surgery for the same. The patient was discharged on November 12. However, post surgery she experienced severe abdominal pain on and off. On the night of February 7, she was rushed back to the hospital due to extreme stomach pain.
An X-ray was conducted as part of the Medical investigation which later revealed the artery forceps inside the patient's belly.
Also Read: Leaving Swab in Patient Tummy: Apollo hospital told to pay compensation
On learning it, the kin of the woman staged a protest in front of NIMS and later filed a complaint with Punjagutta police. Meanwhile, the doctors of another hospital immediately operated the woman and removed the scissors.
"She had been complaining of severe stomach pain at times but we thought it was due to the surgery. When she was brought to the hospital yesterday, the X-ray report clearly showed the scissors. Initially, the hospital authorities were reluctant in giving us the X-ray but we managed to get it," the patient's kin told TOI.
Responding to the issue, NIMS director Manohar termed it an unfortunate incident and said that an action will be taken against the doctors after getting a report from the internal committee.
Dr K Manohar, Director NIMS said that the patient is being currently taken for surgery to remove the scissors. "A committee has been constituted to inquire into the incident. Based on the committee's report action will be initiated," he told the daily.
A case was registered on Saturday against a team of doctors of a government hospital here following a complaint by a man alleging that they had left a pair of surgical scissors in his wife's abdomen during a surgery in November last, police said.
The case was registered against a team of doctors on charges of causing hurt by an act of endangering life or personal safety, they said.
Also Read: For Alleged Medical Negligence in India, Indian oncologist barred from practising in UK
2 comment(s) on Blunder: NIMS doctors leave forceps in womans stomach after operation, booked