Bridge Course for Nursing, Ayurveda approved by IGNOU: Minister informs Parliament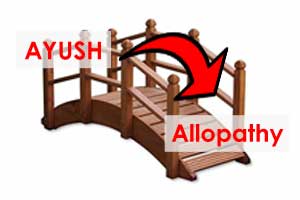 Bridge course in Community health for Nursing and AYUSH already running in States
New Delhi: While the clause regarding the Bridge course in the National Medical Commission Bill, became a bone of contention between the allopathic doctors and the government throughout the country subsequent leading to its removal being recommended by the Parliamentary panel, the clause of bridge course is indeed existing at the state level
Information to this effect was given to the Lok Sabha by the Minister of state (independent charge) AYUSH, Shri Shripad Yesso Naik. The minister provided a written reply to a question raised in the parliament on this issue.
"Under National Health Mission (NHM), a Bridge Programme in Community Health for Nurses was designed and developed with Indira Gandhi National Open University (IGNOU). Subsequently, a common Bridge Programme for Nurses and Ayurveda practitioners was approved by IGNOU. The Bridge Course has already been rolled out in States as per proposal received from States,"  the reply stated
" The Ayurveda practitioners and Staff Nurses after being trained in primary care and public Health competencies through the bridge course are envisaged to be placed as Mid-Level care providers in Sub Health Centres to be strengthened as Health and wellness Centres." the reply added
" AYUSH and modern systems of medicine have distinct approaches and methods of practice. However, there are areas in public health where these systems of medicine can function in mutual co-existence in an integrated manner. The National Policy on Indian Systems of Medicine & Homoeopathy - 2002, envisages integration of AYUSH with the Healthcare Delivery System including Ayurveda. Mainstreaming of AYUSH is one of the strategies in National Health Mission (NHM) as well which seeks to provide accessible, affordable and quality health care in order to improve the existing health care delivery system. Accordingly, the Central Government adopted a strategy of co-location of AYUSH facilities at Primary Health Centres (PHCs), Community Health Centres (CHCs) and District Hospitals (DHs), thus enabling choice to the patients for different systems of medicines under single window. The engagement of AYUSH Doctors/paramedics and their training are supported by the Department of Health & Family Welfare, while the support for AYUSH infrastructure, equipment/furniture and medicines are provided by Ministry of AYUSH under shared responsibilities." the reply further stated.
Medical Dialogue team had recently reported that The Rajya Sabha committee, which had been forwarded the National Medical Commission Bill by the Parliament for examination and recommending the changes, has just given out its recommendations. On the issue of the contentious bridge course, the committee has put forward its view that the 
bridge course should not be made a mandatory provision in the present Bill.
Read Also: 
NO Bridge Course for the time being: Rajya Sabha Committee Decision