................................ Advertisement ................................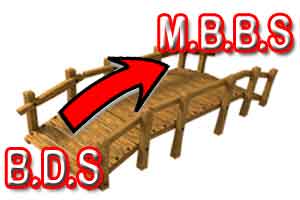 New Delhi: Coming out openly opposing the BDS-MBBS Bridge court, the Indian Medical Association has condemned the idea of bridge courses and mid-level practitioners.
Medical Dialogues team had earlier reported that a meeting was held at the PM's office earlier this month, regarding the scaling up of medical education in India. In the said meeting, it was inter-alia decided to explore the option of allowing dentists to practice family medicine/main stream medicine following bridge course.
Following the same  Niti Aayog, together with the Ministry of Health and Family Welfare are going now chalk out a road map for creating a cadre of Mid-level providers in India thereby reducing the gaps of current shortfall of doctors in the country.
However condemning the proposal Dr Santanu Sen, National President of IMA declared that there is no shortage of doctors in the country. 63,250 MBBS graduates come out of 494 medical colleges of India.
"India has only 23,729 postgraduate seats. The fact remains that the Government does not have the capacity to absorb the rest of them. Every year the unemployment amongst young medical graduates is a cause for great concern. The frustration of these youngsters with a decent undergraduate degree in medicine has to be addressed," the release stated
................................ Advertisement ................................
Dr R V Asokan, Honorary Secretary General of IMA condemning the idea of mid-level practitioners told Medical Dialogues that the Government's attempts to provide half baked medical care to the citizens through mid-level practitioners was dangerous.
" The Government should give permanent postings to MBBS Graduates in the 1,50,000 wellness centres. Adhoc postings are unacceptable and is nothing but a cruel exploitation of these hapless young graduates. Every allied profession to medicine have a unique identity and serves a specific purpose. Dentists, Nurses, Optometrists and Pharmacists have a role and should contribute their services in the respective fields. To baptise them as mid-level medical practitioners through a six months bridge course is being indifferent to the needs of patient safety and patient care. The Government has to answer the question of why the large number of MBBS graduates who are not absorbed into Post Graduate courses every year are not given employment by the Government. Non-creation of new posts, new PHCs and CHCs due to budget constraints is the sole reason," Dr Asokan Stated
The IMA also warned of a nation wide agitation if the idea of mid-level practitioners and bridge course are implemented.
Medical Dialogues Bureau consists of a team of passionate medical/scientific writers, led by doctors and healthcare researchers.  Our team efforts to bring you updated and timely news about the important happenings of the medical and healthcare sector. Our editorial team can be reached at editorial@medicaldialogues.in. Check out more about our bureau/team here
................................ Advertisement ................................
100 comment(s) on Bridge To Nowhere- IMA up against the idea of BDS-MBBS bridge course