Bring action plan on life support system at hospitals: Delhi CM to Satyenda Jain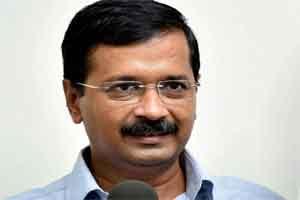 New Delhi: Delhi Chief Minister Arvind Kejriwal has directed Health Minister Satyendar Jain to come up with a "concrete action plan" within a week on providing life support system for critical patients in city government hospitals.
According to a statement released by the government, the decision comes in the wake of a media report, according to which, "the life of a newborn child could not be saved since four government hospitals (in Delhi) refused to admit the child citing lack of critical care beds with ventilator facilities".
"Kejriwal has directed the health minister to submit a concrete action plan within a week to ensure that critical patients requiring life support do not have to run around the hospital in times of crises," the statement said.
The primary objective of this concrete action plan will be to ensure that the "live data" of functional critical care facilities in all Delhi government hospitals is readily and easily available in the first place.
It has been noticed in a number of cases that family members or relatives or friends of patients in critical condition, who rush them to hospitals, are turned away, citing the common excuses of either lack of facilities or non-availability of beds, it said.
"It is an unacceptable scenario since helpless family members keep running from pillar to post in critical time, in which the life of a serious patient could have been saved," the statement by the city government said.
The chief minister has also asked the health minister to include in the plan, the standard operating procedure (SoP) that the hospital where a critical patient is first brought for admission, should follow to ensure critical care to the patient.
Kejriwal has further directed that from now on if for some justified reason, like any hospital lacking life-saving facilities or non-availability of beds, it will be the "mandatory emergency duty" of that hospital to find out in which other hospitals such a facility is available, it said.
"It should be made part of a clearly laid down SoP so that the patient is sent to the other hospital without any delay," the statement said.
The hospital will have to ensure shifting of the patient, it said.
"He (Kejriwal) has made it clear that loss of lives due to lack of facilities in the hospitals of Delhi is unacceptable since the government is committed to providing best health care for the residents of the national capital.
"And it has allocated nearly Rs 6,000 crore in the current financial year for the health sector," it said.