Bypassing Delhi Govt, Centre invites Delhi private hospitals to participate in Ayushman Bharat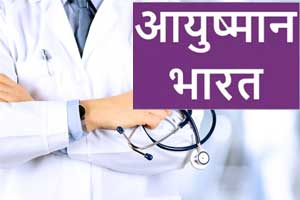 The centre and the Delhi Government are in a tussle over the name of the Scheme in the capital
New Delhi: While the tussle for the launch of the prime minister's ambitious health project in the capital still continues, the central government is reported to have directly approached Delhi-based private hospitals to be a part of Ayushman Bharat health insurance programme. The National Health Agency (NHA) has invited non-government hospitals in the capital to get empanelled with Pradhan Mantri Jan Arogya Yojana (PM-JAY).
The catch that comes with the direct empanelment would be that only patients from other neighbouring states would receive the benefit. As the Delhi government is yet to give its nod to the participation of the scheme, residents of Delhi would be denied of the Benefit of Modicare.
The hospitals which are being called for joining Ayushman Bharat scheme are accredited with the National Accreditation Board of Hospitals (NABH). These include Max Super Speciality Hospital, Saket; Sir Ganga Ram Hospital; Fortis, Shalimar Bagh; Fortis, Vasant Kunj, Moolchand Hospital; Delhi Heart and Lung Institute; Pushpawati Singhania Research Institute; Rajiv Gandhi Cancer Institute; Batra Hospital; Sitaram Bhartia Institute; and Primus Super Speciality Hospital, among others.
These hospitals have not been under the
Ayushman Bharat
scheme or Modicare, as the centre and Delhi government are stuck over differences on the name of the schemes. The Kejriwal government wants the name to be called as 'Mukhya Mantri Aam Aadmi Swasthya Bima Yojana Ayushman Bharat' for implementation in Delhi.
Read Also: Ayushman Bharat scheme: Delhi govt yet to take a call on signing MoU with Centre
"We are in talks with these hospitals, including Apollo and Max. They are willing to participate in the scheme but since the Delhi government is not on board, these hospitals are losing out on business which they can get through the scheme. We also need these hospitals to have a strong pool for patients. So, we are working out a mechanism to have them on board," a senior official told
TOI
.
Notably, patients from all over the country come to Delhi for medical treatment, so the maximum beneficiaries under Ayushman Bharat will be from other states. Presently, the centre is trying to bring a maximum number of health centres under the umbrella of the scheme.
"Empanelling all Central hospitals, including those run by the Railways and defence services, will enable patients from across the country to avail cashless treatment. Delhi gets many patients from other states, so we have also invited private hospitals in Delhi to get empanelled, provided they have NABH accreditation that ensures quality services and outcomes," said Dr Jitu Lal Meena, deputy general manager, Hospital Network and Quality Assurance, NHA informed
HT
.
Read also: Ayushman Bharat a big gift for poor and needy: Union Home Minister