Cancer claims 3.5 lakh lives every year in India: ISCR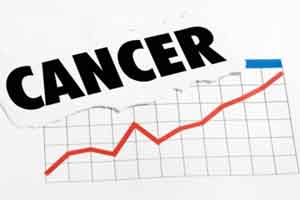 New Delhi: Cancer is the second biggest killer after heart disease in India, with 3.5 lakh people succumbing to the disease every year, a research body said.

Referring to the WHO World Cancer Report 2015, the Indian Society for Clinical Research (ISCR) said seven lakh new cancer cases emerge every year in the country, killing over 3.5 lakh people and is expected to rise in the next 10-15 years.

"This makes it crucial to focus on new and more effective cancer treatments in addition to the prevention and diagnostics aspects, thus bolstering the momentum of clinical research in our country.

"The demographic distribution of different kinds of cancers also makes it important to invest in local clinical research," ISCR said in a statement on the eve of World Cancer Day.

Suneela Thatte, President, ISCR, noted that encouraging more clinical research in cancer can increase patients' access to more effective and affordable treatment.

"ISCR welcomes every development that helps in conducting clinical research in India and is fully committed to the country's quest for newer cancer treatments.

"I believe the recent regulatory amendments in India have led to a more conducive environment for clinical trials in the country. This, when combined with our vast pool of scientific talent and resources, presents a wonderful window of opportunity to strengthen clinical research in the country. It will enable every patient to have access to the latest cancer therapies," she said.

Reiterating the need for more clinical research in the country, CS Pramesh, Chief, Thoracic Surgery, Department of Surgical Oncology at Tata Memorial Hospital, said "We need to focus our research and resources on finding treatments for the more prevalent cancers in India- head and neck, breast, cervical and gall bladder".