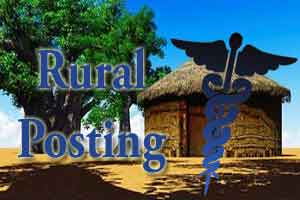 60 per cent of posts reserved for doctors are lying vacant in rural and tribal areas, the government informed HC
Mumbai: Solemnly replying to the order directed by the Bombay high court, the state government has affirmed that it can't structure a scheme with the aim of enticing doctors to work in the rural and tribal areas.
The honourable court was hearing several petitions claiming that no medical attention is being given to the women and infants in the rural and tribal areas.
During a hearing a few days ago, a division bench of honourable Justice Naresh Patil and Justice Girish Kulkarni, asked the government to consider granting some 'perks' to doctors so that they do not give up their postings in tribal areas. The observations were made after additional government pleader Neha Bhide apprised the judges of the fact that despite posting doctors in tribal areas, they usually refuse to work there citing lack of facilities, reports the Free Press Journal.
"We think the government must devise some scheme or policy to attract doctors. You (government) must come up with some policy which can attract doctors to practice in rural and tribal areas," Justice Patil directed.
Meanwhile, in a recent hearing, Advocate General Ashutosh Kumbhkoni, appearing for the government informed the judges that nearly 60 per cent of posts reserved for doctors are lying vacant.
Citing finance shortage as the reason for being unable to frame the policy, AG Kumbkoni notified the bench, "The Union government disburses funds under the National Rural Health Mission scheme. These funds are mostly used for providing nutrition and other activities for the betterment of tribal communities."
"A part of these funds are used for paying the doctors, thus, as far as the funds are provided by the Union government, it is not possible for the Maharashtra government to frame a scheme so that more doctors are encouraged to work in the rural and tribal areas," Kumbhkoni added.
On this, the bench directed the state to immediately fill up these abundant vacancies of doctors. Justice Patil observed, "This is a major issue. We do not want to know how you have been recruiting people so far but we want you to fill up these posts as fast as possible. This will solve most of the problems in the areas."
Free Press Journal  further reports that the judges were concerned over the difficulties faced by the tribal communities living, in their case surviving in the remote areas. Noticing the situation, Justice Patil said, "We do understand your (government's) difficulties but now there is a need to have a positive approach in this case. You have to tell us the remedial measures; you propose to undertake to tackle the issues in tribal areas."
Read Also: Benefits for Doctors for Serving in Rural Areas: MOS Health informs Parliament
4 comment(s) on Cannot frame Scheme to ENCOURAGE Doctors to PRACTICE in Remote Areas: Maha Govt to HC