Cardiologists at G.B. Pant find rare link between COVID-19 cytokine storm and ARVD.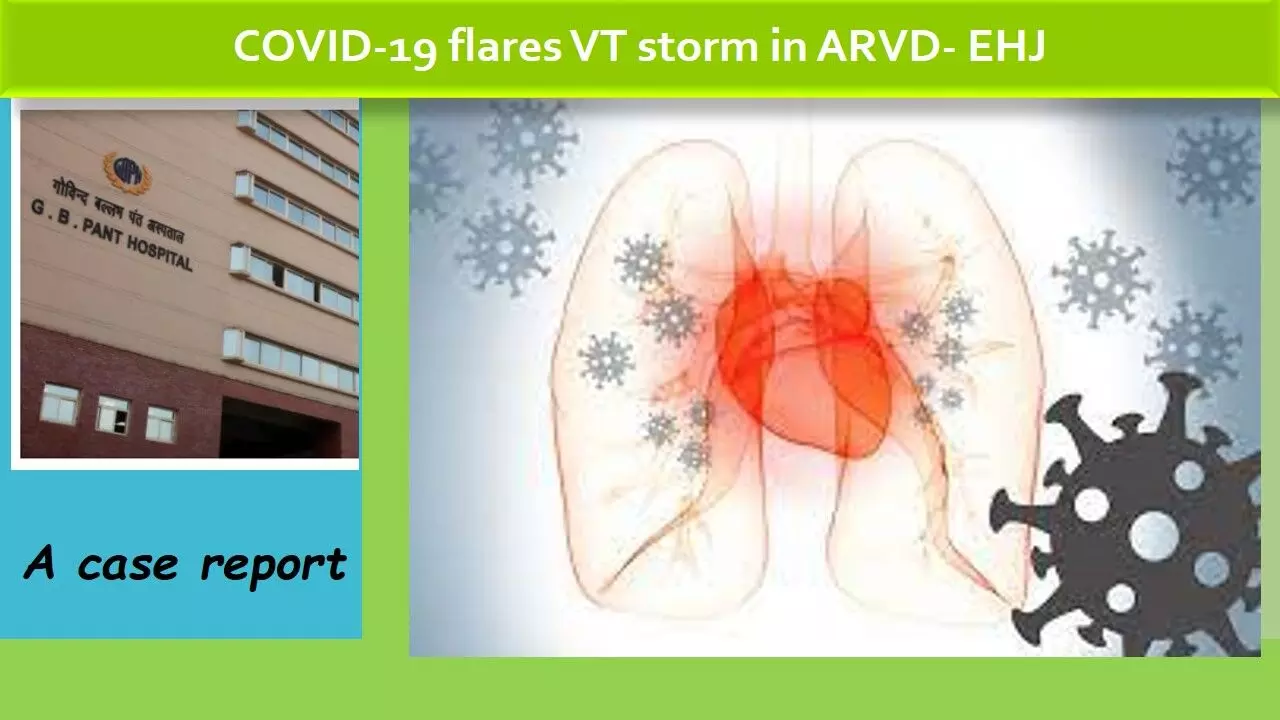 A team of cardiologists led by head of Cardiology department at G.B. Pant Hospital, New Delhi- Dr. Saibal Mukhpadhyay, have shown a unique manifestation of COVID-19 induced cytokine storm that unraveled, a previously undetected, genetic cardiomyopathy- Arrythmogenic Right Ventricle Cardiomyopathy. In retrospect this condition had been present in two of patient's siblings and had resulted in sudden cardiac death.

This patient underwent an Implantable cardioverter-defibrillator (ICD) implantation and was thus saved from a life threatening catastrophe. This case report has recently been internationally published in European Heart Journal.
Coronavirus disease (COVID-19) is a systemic illness characterized by raging impact of cytokine storm on multiple organs. This may trigger malignant ventricular arrhythmias and unmask a clinically silent cardiomyopathy.
A 57-year-old gentleman, known case of hyperthyroidism and diabetes, was referred to G.B. Pant Hospital's emergency department with history of two ventricular tachycardia (VT) episodes requiring direct current cardioversion in last 3 h followed by another episode in emergency department that was cardioverted. There was no past history of cardiac illness.
His 12-lead electrocardiogram (during sinus rhythm) along with screening echocardiography suggested ARVD. He was coincidentally found to be COVID-19 positive by reverse transcription-polymerase chain reaction (RT-PCR) as part of routine screening in G.B. Pant in COVID era. However, he had no fever or respiratory complaints.
Saibal et al noted raised systemic inflammatory markers and cardiac troponin T which progressively increased over the next 4 weeks paralleled by an increase in ventricular premature contraction burden and thereafter started decreasing and returned to baseline by 6th week when the patient became COVID-19 negative by RT-PCR.(Figure)
Subsequently, a single-chamber automated implantable cardioverter-defibrillator implantation was done following which there was a transient increase in these biomarkers that subsided spontaneously. The patient is asymptomatic during 6 weeks of follow-up.
This is the first time in world that a quiescent ARVD state has been documented to manifest by cytokine storm in COVID.
"IL-6 plays a central role in COVID-19-induced acute myocardial injury. In our case, persistent viral infection during first 4 weeks had triggered IL-6 surge through immunological activation that led to myocardial injury. There was parallel rise in levels of IL-6, hs-cTnT, and VPC burden (representing severity of acute myocardial injury) during the initial 4 weeks of active infection followed by their decline and normalization by 6th week when the patient turned COVID-19 RT-PCR negative", write authors.
"It has been reported that IL-6 causes internalization of the desmosomal protein plakoglobin from the cardiomyocyte membrane and promotes electrical instability.The reduced surface expression of such desmosomal proteins is also a known cause of arrhythmogenic cardiomyopathies like ARVC,thereby partly explaining the concurrent surge of IL-6 levels and VPC burden in our patient. ", noted Dr Abhimanyu, a co-author of this report.
In conclusion, COVID-19 triggered cytokine surge can unmask a dormant cardiomyopathy and manifest solely as malignant ventricular arrhythmias like VT storm in absence of any associated respiratory symptoms.
This article's writer was a co-author of this case report.
Source: European Heart Journal Case Reports: https://doi.org/10.1093/ehjcr/ytab220