Cardiologist Dr VK Trehan at G.B. Pant performs first ever transhepatic BMV in a patient with interrupted IVC.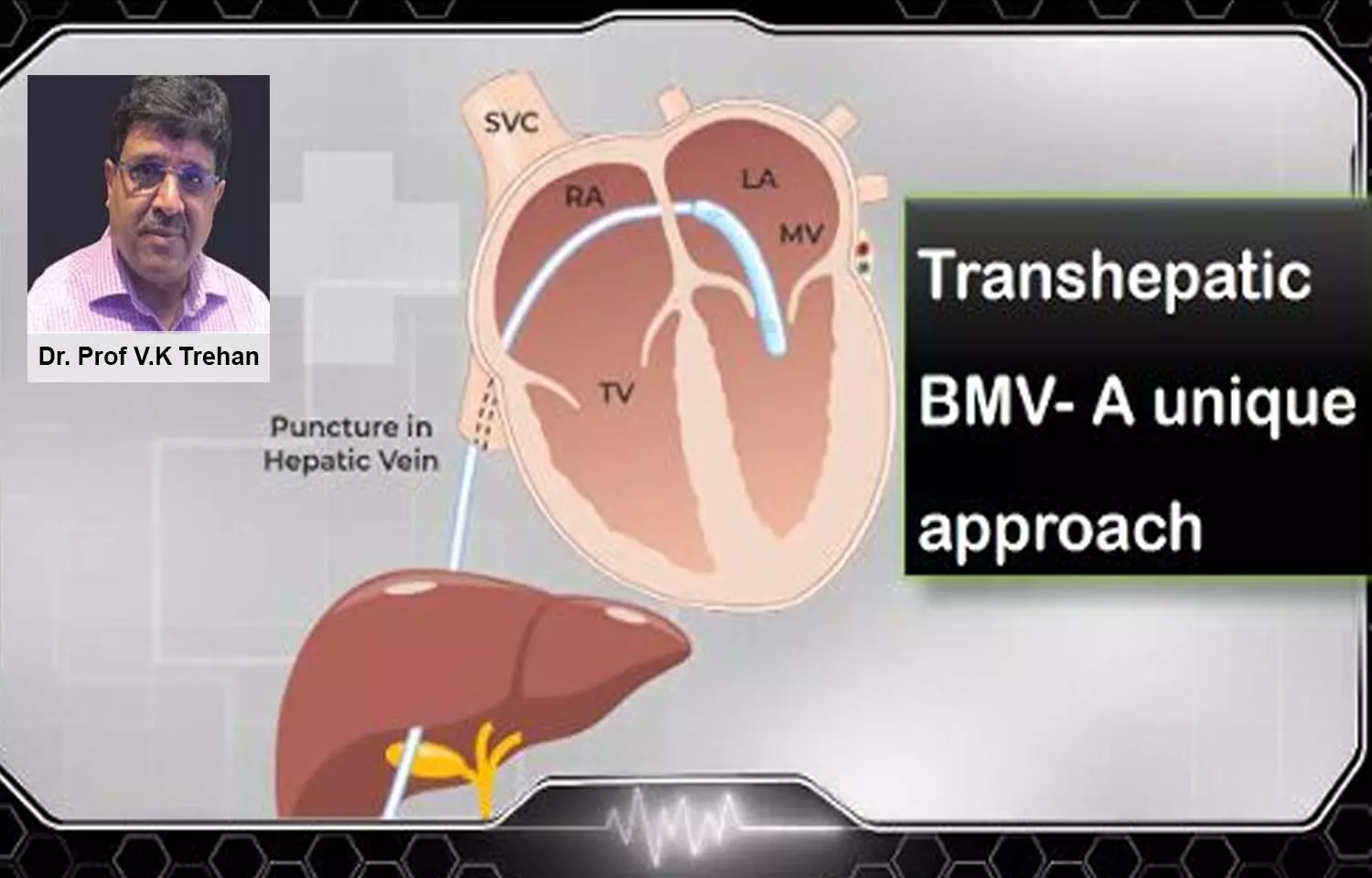 Access to the mitral valve for balloon dilatation (BMV) is conventionally achieved using a transseptal approach via the right femoral vein. When inferior vena cava access is not suitable then a retrograde transaortic approach or a jugular approach have been described. But both these techniques have their own short-comings.

An intervention cardiology team at G.B. Pant Hospital, New Delhi led by Dr. Vijay Trehan have now presented a unique technique of performing BMV through transhepatic route for a patient who had congenital anomaly of interrupted inferior vena cava (IVC) along with acquired rheumatic heart disease with severe mitral stenosis. This is the first time that this approach has been used to perform BMV in a patient with interrupted IVC.
A 38 year old frail lady, weighing just around 40 kg, came to GB Pant Hospital with severe breathing difficulty. She was unable to carry out any activity of daily living, including routine household chores. She was detected to have rheumatic heart disease with severe mitral valve stenosis. Following initial work-up she was found to be a suitable candidate for BMV.
When the patient was taken up for valve dilatation using a balloon, it was found that inferior vena cava was obstructed. Hence, the procedure could not be done by the traditional transfemoral access. Interrupted IVC is a rare congenital abnormality occurring in approximately one in 5000 of the general population. It is characterised by azygos continuation following failure of fusion of one or more of the component parts of the embryological IVC. It is usually an isolated finding and generally asymptomatic.
Here is the video showing a simplified representation of the procedure
A detailed assessment was then done by the team of cardiologists led by Dr Vijay Trehan. Access through a large neck vein was also not possible due to anatomical issues. The team, including Dr Vijay Trehan, Dr Safal, Dr Ankit Bansal, Dr Ankur and others, hence decided to access the right atrium through a hepatic vein. This was the first time ever in the world that balloon dilatation of left sided heart valve in a patient with interrupted inferior vena cava, was planned through a transhepatic route.

The team accessed the hepatic vein through transcutaneous route using a needle and then approached the right atrium; then the inter-atrial septum was carefully punctured using echo and advanced X-ray guidance. After this, the shrunken valve was successfully dilated using a balloon. The full procedure was done without a single stitch. Modification of the lnoue technique was required to allow appropriate orientation of the dilatation catheter and its passage into the left ventricle.
This was done under local anesthesia. Notably, the procedure did not require any special equipment. The routine hardware used for BMV was used in this case to achieve a successful outcome.
Previously one such procedure for BMV was done way back in 1996 in Michigan, USA. The patient had an IVC filter that made femoral access difficult.(1)
The case highlights importance of improvising cardiac interventions when faced with such challenges. A retrograde, nontransseptal approach, described by Stefanidis and colleagues could be considered feasible in this case.(2) However, the procedure requires a specially modified, steerable dilatation catheter and hence the transhepatic approach is a much more practical alternative.
The patient is now comfortably able to walk and even climb a flight of stairs without any breathing difficulty.
References:
1. Punamiya, Kirti; Beekman, Robert H.; Shim, David; Muller, David W. M. (1996)."Percutaneous transhepatic mitral commissurotomy." Catheterization and Cardiovascular Diagnosis 39(2): 204-206
2. Stefanidis C, Stratos C, Pitsavos C, Kallikazaros I, Triposkiadis F, Vlachopoulos C, Gavaliatsis I, Toutouzas P: Retrograde nontransseptal balloon mitral valvuloplasty: immediate results and long-term follow-up. Circulation 85: 1760-1767, 1992.