Rare case of Takayasu Arteritis camouflaged with Resistant Hypertension and Tuberculosis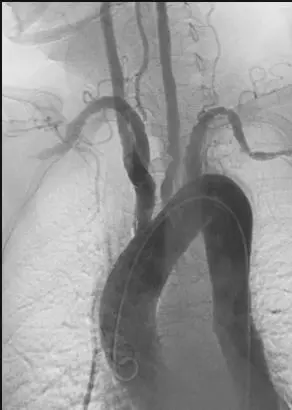 A team of doctors have reported a patient of Takayasu arteritis , with uncontrolled hypertension, arm claudication and a history of Pott's spine (treated),who when treated with steroids showed significant improvement in the patient's clinical profile.

Takayasu arteritis also known as pulseless disease, occlusive thromboaortopathy, and Martorell syndrome,, is a disease of large and medium sized arteries with maximum predilection towards the branches of the aortic arch. Most of the patients with takayasu arteritis are known to have active tuberculosis or history of tuberculosis and whether there is etiological association with tuberculosis or not is yet to be elucidated. When untreated , Vessel inflammation leads to wall thickening, fibrosis, stenosis, and thrombus formation. Symptoms may reflect end organ ischaemia.
Takayasu arteritis is rare, but most commonly seen in Japan, South East Asia, India; especially women.
Dr Dilip Kumar R and colleagues ,Consultant and Head at Dr. Mehta Hospital, Chennai, have recently reported an interesting case of Takayasu arteritis in Journal Of The Association Of Physicians Of India.
A 28 year old lady presented with complaints of severe right arm pain which was steadily increasing in severity since last 2 days. She had history of Pott's spine 2 years ago for which she was treated with ATT (category 1) for 9 months. She was diagnosed hypertensive an year ago for which she was currently on treatment with a Calcium channel blocker, beta blocker and a thiazide diuretic. Other than that she had a recent history of tubo-ovarian mass which was operated based on clinical suspicion of Tuberculosis. She also had a history of loss of weight (>5% from baseline) with history of nodular rashes in the lower limbs for the past 4 months.
Investigations revealed Aldosterone and renin levels were elevated suggesting that the hypertension was due to renal artery hypoperfusion.
As ACR criteria for Takayasu Arteritis complied with all the signs and symptoms in the patient, standard immunosuppressive therapy was started. She was started on Prednisolone 60 mg once daily and Aspirin 75 mg once daily as an adjunct. Her blood pressure was controlled with Nifedipine 10 mg thrice daily and Telmisartan 40 mg twice daily along with hydrochlorothiazide 12.5 mg twice daily.
The patient had complete resolution of symptoms within a month of starting treatment and her inflammatory markers normalized. Steroid therapy continues as of date with no adverse effects being noted.
For full article click on the link : https://www.japi.org/x2649484/takayasu-arteritis-masquerading-as-resistant-hypertension-and-tuberculosis
Source : Journal Of The Association Of Physicians Of India