Colchicine beneficial in COVID-19 RTCPR confirmed cases, Lancet study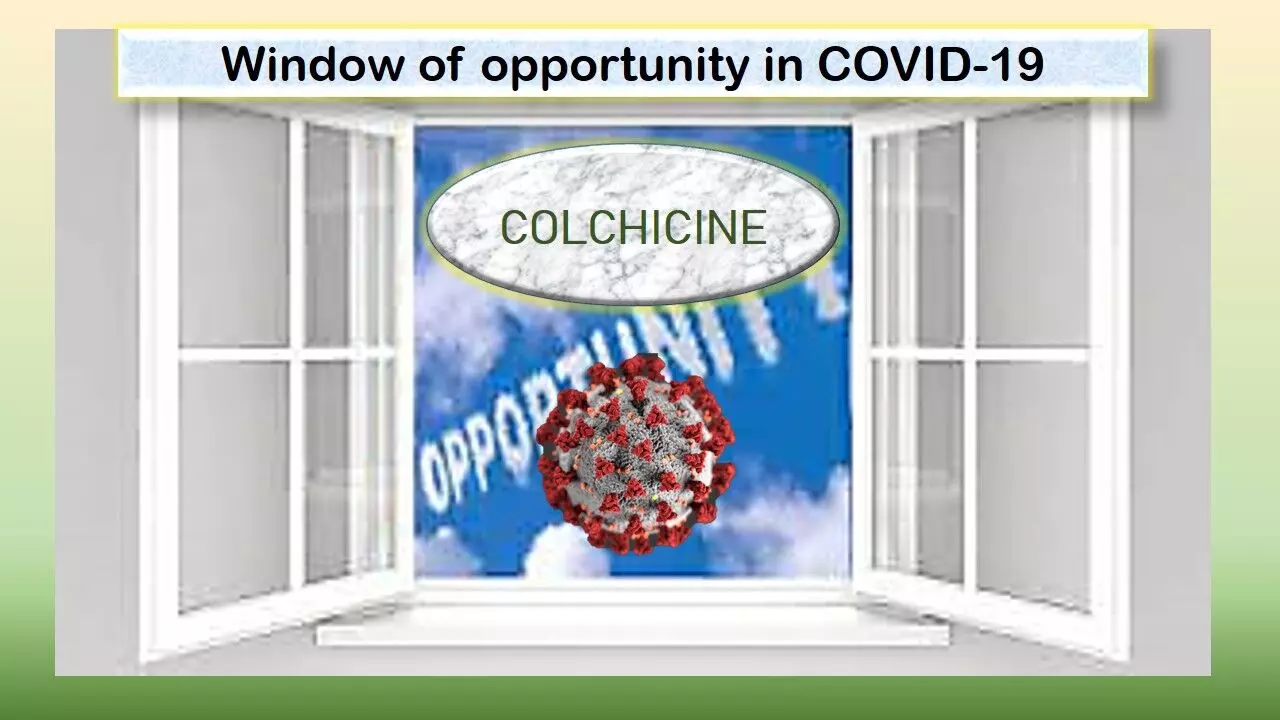 Evidence suggests a role for excessive inflammation in COVID-19 complications. Colchicine, an oral anti-inflammatory medication is hypothesized to play a role in combatting the inflammatory damage in COVID-19. The results of the placebo-controlled, COLCORONA trial published in Lancet Journal, have shown that colchicine failed to reduce deaths or hospital admissions among people with confirmed or suspected COVID-19 being treated at home. But the drug appeared to be beneficial among patients whose diagnosis was confirmed by PCR tests.
In this phase 3, randomised, double-blind, adaptive, placebo-controlled, multicentre trial, patients with COVID-19 diagnosed by PCR testing or clinical criteria who were not being treated in hospital were eligible if they were at least 40 years old and had at least one high-risk characteristic.
Patients were randomly assigned to receive orally administered colchicine (0•5 mg twice per day for 3 days and then once per day for 27 days thereafter) or matching placebo. The primary efficacy endpoint was the composite of death or hospital admission for COVID-19. Vital status at the end of the study was available for 97.9% of patients. The analyses were done according to the intention-to-treat principle.
Among 2,235 COLCORONA patients randomized to colchicine, 4.7% died or were hospitalized for COVID-19 at 30 days, as compared with 5.8% of the 2,253 patients randomized to placebo (OR 0.79, 95.1% CI 0.61-1.03).
However, among the 4159 patients with PCR-confirmed COVID-19, the benefit achieved statistical significance as the primary endpoint occurred in 96 (4•6%) of 2075 patients in the colchicine group and 126 (6•0%) of 2084 patients in the placebo group (p<0.05).
Serious adverse events were numerically higher in the placebo group than in the colchicine group (6.3% vs 4.9%; P = 0.051), as were pneumonia cases (4.1% vs 2.9%; P = 0.021). Diarrhea, however, was nearly twice as common among the colchicine-treated patients (13.7% vs 7.3%; P < 0.0001).
"Our study showed that colchicine reduces the occurrence of the primary endpoint of death or hospitalization by 25% in community-treated patients with PCR-confirmed COVID-19," said Jean-Claude Tardif, MD (Montreal Heart Institute, Canada), "The number needed to treat (NNT) to prevent one death or hospitalization for patients with PCR-confirmed COVID-19 is 70. We believe that an NNT of 70 is acceptable in the context of a pandemic, for a drug like colchicine that is inexpensive, safe, and widely available. In addition, the NNT is 29 for patients with diabetes, 31 for patients aged 70 years and older, 39 in men, 52 in patients with respiratory disease, and 25 in those with cardiovascular disease."
In an accompanying editorial, Clark D. Russell, MBChB (University of Edinburgh, Scotland), points out that the dose used in COLCORONA (0.5 mg twice per day for 3 days, then once per day for 27 days) was slightly lower than that used in another autoinflammatory disease (familial Mediterranean fever), and that the patients enrolled in the study likely don't represent the highest-risk patients for severe COVID-19 (the median age was 53 years in the treatment group and 55.4% were women).
Given the absence of orally administered therapies to prevent COVID-19 complications in community-treated patients and the benefit of colchicine in patients with PCR-proven COVID-19, this safe and inexpensive anti-inflammatory agent could be considered for use in those at risk of complications.
Source: Lancet Respiratory medicine: Tardif J-C, Bouabdallaoui N, L'Allier PL, et al. Colchicine for community-treated patients with COVID-19 (COLCORONA): a phase 3, randomised, double-blinded, adaptive, placebo-controlled, multicentre trial. Lancet Respir Med. 2021