Prognostic role of ECG QRS diminution in Covid 19 patients:study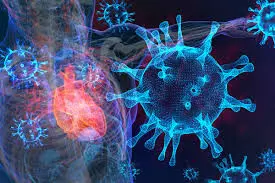 Myocardial injury has been reported in33.7% of hospitalized patients with COVID-19, yet data is limited on the 12-lead relectrocardiogram (ECG) changes in these patients. Joshua Lampert et.al, noted QRS amplitude diminution on the 12-lead ECG to be coincident with worsening clinical status and death while caring for patients with COVID-19, which prompted to conduct this investigation. A total of 140 patients with Covid 19 and 281 patients with influenza were included in this retrospective study conducted at Mount Sinai hospital, New York. Patients developing Low QRS amplitude (LoQRS) , defined as a composite of QRS amplitude <5 mm or <10 mm in the limb or precordial leads, respectively, or a ≥50% decrease in QRS amplitude on follow-up ECG during hospitalization, were analyzed for their outcomes.

Important findings of this study are
1) LoQRS was more prevalent in patients with COVID-19 than influenza, and in patients who died than survived with either COVID-19 or influenza.
2) LoQRS was independently associated with mortality in patients with COVID-19 when adjusted for baseline clinical variables, presenting and peak troponin, D-dimer, C-reactive protein, albumin, intubation, and vasopressor requirement.
3) The median time to death in COVID-19 from the first ECG with LoQRS was 52 hours.
4) Dynamic QRS amplitude diminution is a strong independent predictor of death over not only the course of COVID-19 infection, but also influenza infection.
Authors concluded that LoQRS may serve as a pragmatic prognostication tool reflecting evolving clinical changes during hospitalization, over a potentially actionable time interval for clinical reassessment.
Source: The American Journal of Cardiology
Source : American Journal of cardiology