Salt Substitute Effectively Reduces Blood Pressure, Finds Study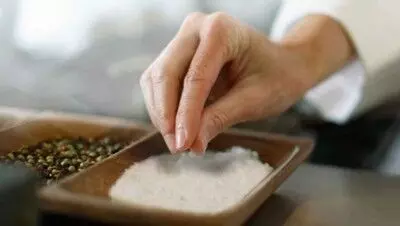 Excess sodium intake is a causal risk factor for hypertension, and reducing sodium from dietary salt is advocated as a first-line treatment of hypertension by most national and international hypertension societies, including in India. A recent study suggests, replacing regular common salt with salt substitute led to a substantial reduction in systolic blood pressure (SBP) in hypertensive patients. The research has been published in The American Journal of Clinical Nutrition on March 30, 2021.

A practical method for reducing sodium from discretionary salt use is to replace regular salt (100% sodium chloride) with a "salt substitute," a product that replaces a portion of the sodium chloride, in regular salt with other salts such as potassium chloride (usually 25–30%) and/or magnesium sulphate (10–14%). However, it remains unclear if salt substitutes reduce blood pressure (BP) among Indian hypertensive patients. Therefore, researchers of the George Institute for Global Health, Australia, conducted a study to examine the acceptability, usage, and BP effects of a reduced-sodium and added-potassium salt substitute among hypertensive patients.
Salt Substitute in India Study (SSiIS) was a double-blind, randomized control study with an intervention duration of 3 months in 502 participants with hypertension from 7 villages in rural India. Researchers randomly assigned the patients to receive either regular salt (100% sodium chloride) or the salt substitute (70% sodium chloride/30% potassium chloride blend) and advised to replace all home salt use. The major outcome was the change in systolic BP (SBP) from baseline to 3 mo comparing the salt substitute and regular salt groups. The researchers also assessed the change in diastolic BP (DBP), 24-h urinary biomarkers, and self-reported use and satisfaction with the study-salt provided. A total of 494 (98%) participants completed one month, and 476 (95%) participants completed the 3-mo follow-up.
Key findings of the study were:
By the 3rd month, the researchers noted that the patients in the salt substitute group had significantly lesser SBP by 4.6 mmHg and DBP by 1.1 mmHg.
They also noted a significant increase in 24-h urinary potassium excretion in the salt substitute group by 0.24 g/d and a decrease in the urinary sodium to potassium ratio by 0.71 compared with the control group.
The participants reported that they used the study-salt nearly every day of the week and rated the taste of the study salts similarly.
The authors concluded, "The reduced-sodium added-potassium salt led to a substantial reduction in SBP in hypertensive patients, supporting salt substitution as an effective, low-cost intervention for BP lowering in rural India."
For further information:
Article Source :
The American Journal of Clinical Nutrition