Sirolimus coated MagicTouch at par with paclitaxel DEBs for 1 year outcomes, study.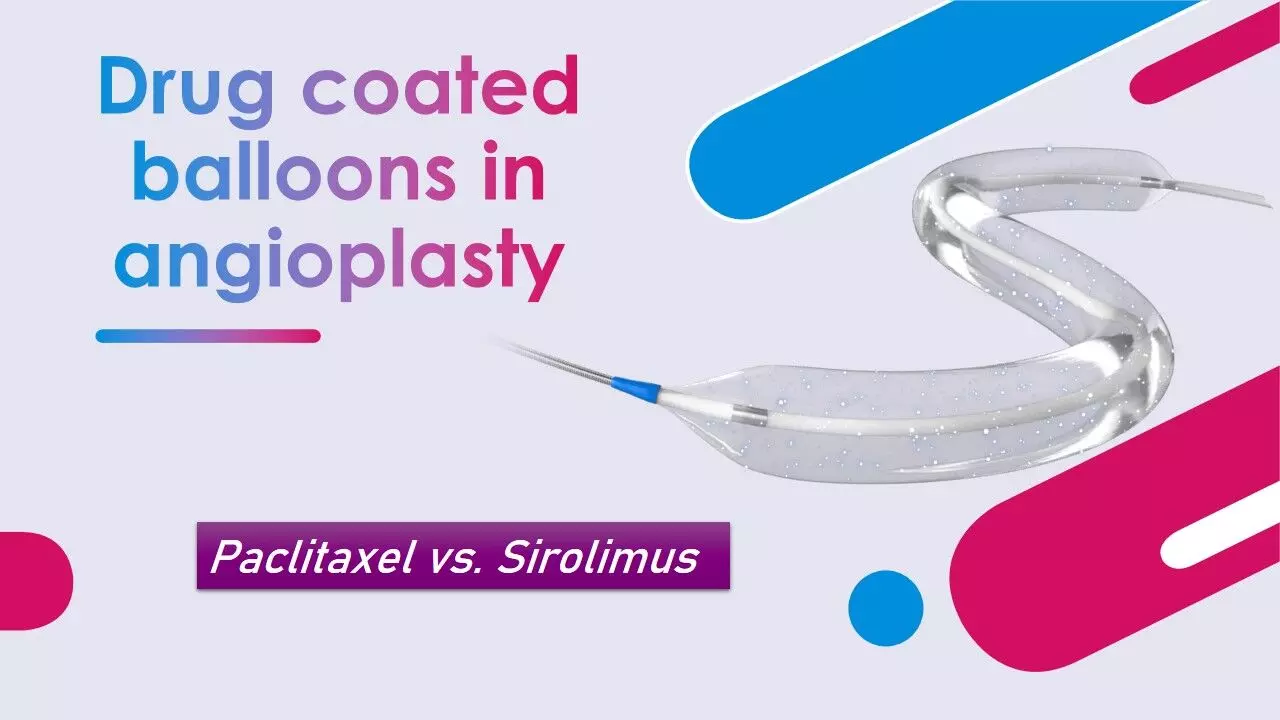 Most of the currently available drug eluting balloons (DEBs) are coated with paclitaxel (PCB). However, new debatable findings regarding the long term safety of paclitaxel-eluting devices (either stents or balloons) for peripheral use have recently raised some concerns. Sirolimus coated balloons can be an alternative to paclitaxel by extrapolating the experience from drug eluting stents.
In this regard, SIRPAC study sought to indirectly compare the 12-month clinical outcome of patients treated with PCB vs. sirolimus-coated balloons (SCB) during coronary angioplasty and found no significant difference in clinical endpoints between the two groups. These findings were recently published in Cardiovascular Revascularization Medicine journal.
Drug-coated balloons (DCBs) emerged as an alternative to bare metal stents and drug-eluting stents (DES) for the treatment of in-stent restenosis more than 10 years ago. DCBs provide a fast and high-dose delivery of antiproliferative drugs to the vessel wall and carry several anticipated benefits over DES, such as the lack of permanent scaffold and the need for a shorter duration of dual antiplatelet therapy.
Given the absence of any direct comparison between sirolimus and paclitaxel in an "all comer" population, the aim of the SIRPAC study was to compare a new generation paclitaxel-DCB to the Magic Touch SCB.
After propensity-score adjustment, a total of 580 patients, 290 for each group, were included. At 12-month follow-up, no significant differences were found between patients treated with paclitaxel DCB (Elutax SV PCB) and those treated with sirolimus DCB (Magic Touch SCB) for the primary endpoint defined as a composite of target lesion revascularization (TLR), nonfatal myocardial infarction (MI) and all-cause death.
Also, no statistical differences were found between groups for the rates of non-fatal MI, TLR, Bleeding Academic Research Consortium 2–4 major bleeding, and death.
This study by Cortese et al represents the first comparison of a sirolimus DCB with a second-generation paclitaxel DCB. Magic Touch balloon has been developed by Concept Medical, India.
While the European Society of Cardiology guidelines recommend the use of DCB for the treatment of in-stent restenosis with a Class I recommendation, in the United States, DCBs are currently approved for use only in peripheral arterial disease. Since 2016, sirolimus-coated balloons, with a wider therapeutic window than paclitaxel, have emerged, increasing the DCB, armamentarium of the practicing interventional cardiologist.
DCB deliverability yet remains the Achilles' heel of DCB technology. As shown by the exclusion of patients with tortuous or calcified vessels by Cortese et al, improvements in DCB deliverability are highly desired.
Research efforts in the near future should be focused on several aspects:
1) Pre-dilation prior to DCB-PCI is a crucial procedural step for preventing vessel wall recoil, as it creates microdissections, which are required for optimal uptake of the drug; and the best strategy is yet to be determined.
2) If results from the DES-PCI field can be extrapolated to DCB-PCI, intracoronary imaging guidance might improve long-term clinical outcomes in patients treated with DCBs.
3) The impact of DCB-PCI in a broader population of patients, including de novo all-size vessel CAD.
To summarise, in a non-randomized comparison the SIRPAC study has shows clinical equivalence between a novel sirolimus-coated balloon and one of the latest generation paclitaxel-coated balloons at 12 months clinical follow up in coronary artery disease patients.
Source: Cardiovascular Revascularization Medicine: https://doi.org/10.1016/j.carrev.2021.04.013