Managing Angina: How 50 years Old Propranolol Stands Out!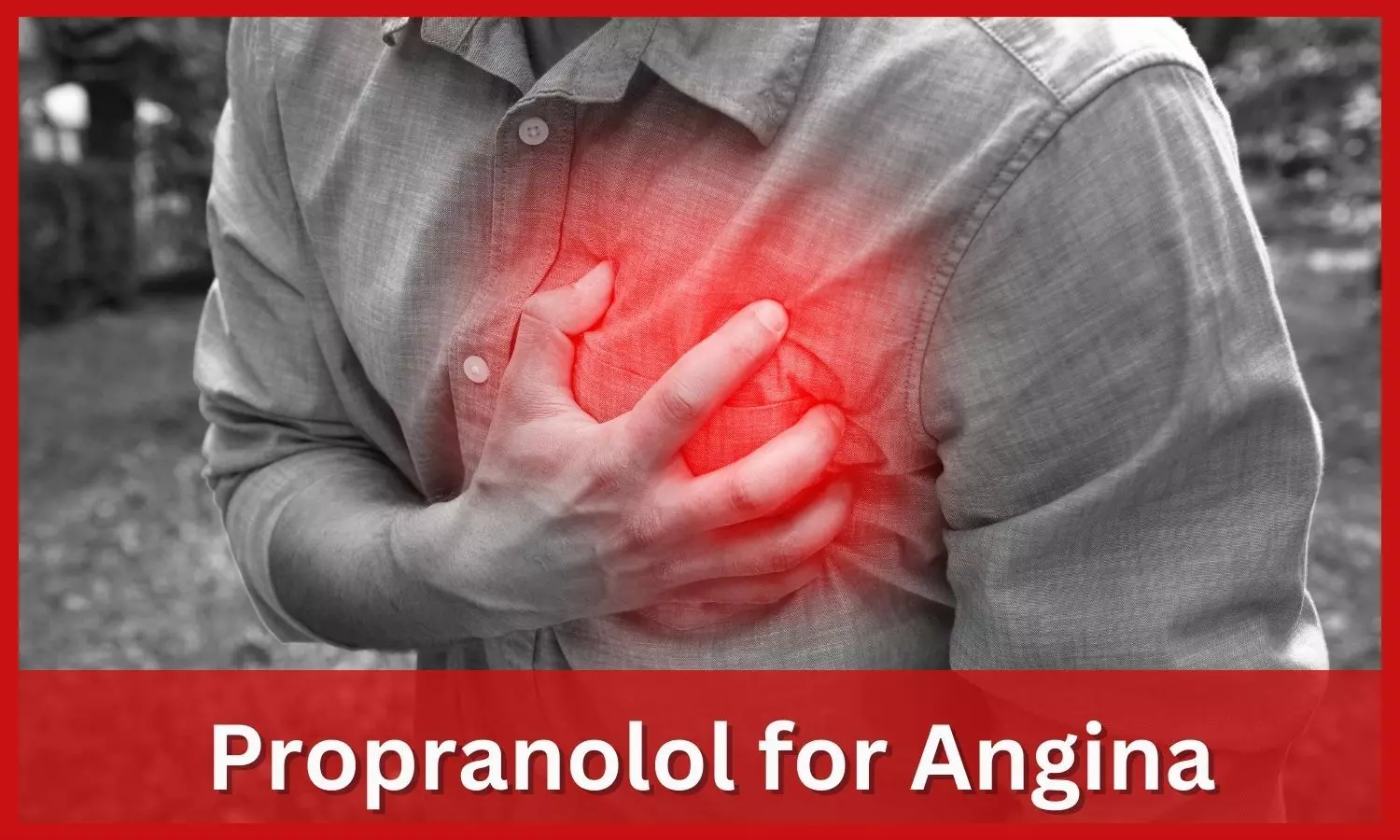 Ischaemic heart disease is a leading cause of mortality and disability worldwide, with angina being the most prevalent and worrisome clinical symptom. Interestingly, one in every three patients receives poor guidance regarding lifestyle modification, along with optimal use of licensed antianginal medications, and/or coronary revascularization. In the decades to come, the burden of angina patients is expected to rise sharply due to the aging population, obesity pandemic, and sedentary lifestyle. Therefore, strategies to optimize chronic stable angina care remain a top priority among physicians. (1) Precisely the mechanism of angina varies from patient to patient and among patients, resulting in a mismatch between myocardial oxygen demand and delivery. In most patients, the underlying pathology is an atherosclerotic narrowing of one or more epicardial coronary arteries, thus limiting the coronary blood. (1)

Recognizing this, anti-ischaemic therapy is currently directed to achieve two major goals: (2) symptoms alleviation, extend exercise duration, improve quality of life, and (1) improvement of prognosis by reducing the incidence of acute coronary thrombosis, slow the progression of coronary atherosclerosis and the development of ventricular dysfunction.
Beta Blockers in the Treatment of Angina: Focus on Propranolol
Beta-blockers are adequate for the symptomatic treatment of angina and the prevention of ischaemic events by decreasing beta-receptor activation, which results in a decrease in inotropic state and sinus rate due to a slowing of atrioventricular (AV) conduction. (3) Interestingly, years after the advent of cardio-selective beta-blockers, propranolol (a non-selective beta blocker) continues to remain in use widely owing to its unique pharmacokinetic profile, high lipophilicity, and versatile indications.
Propranolol: History & Overview: Propranolol, a prototypical beta-adrenergic blocker, was synthesized in 1964 by James Black and his team as a modification of pronethalol (a precursor which had shown promise in the treatment of angina). Unlike pronethalol, propranolol was free of neurotoxicity due to its far stronger beta-adrenergic blocking activity, leading to therapeutic effects with lower dosages. Exhibiting encouraging study results, propranolol was approved for use by the Food and Drug Administration in November 1967. (4)
Propranolol- Mechanism of action: Propranolol is a competitive beta-adrenergic receptor antagonist with no agonist activity, making it the standard prototype. Propranolol is a class II antiarrhythmic with a nonselective beta-adrenoreceptor antagonist. It works by competitively inhibiting beta-1 and beta-2 adrenergic activation in the heart, usually generated by epinephrine and norepinephrine. The activation of beta-1 receptors (found on cardiac myocytes) causes muscle fiber contractility to increase. When beta-adrenergic receptors are blocked, the total workload of the heart is lowered, which leads to decreased oxygen demand and myocardial contractility. (5)
Over the last 50 years, propranolol has gained acceptance in treating many cardiovascular and non-cardiovascular disease processes, owing to its action at multiple receptor sites (6), eventually establishing wide applicability in clinical practice.
Therapeutic Application of Propranolol: Propranolol could be used in the following indications in clinical practice settings
Propranolol has been recommended to treat heart failure and coronary artery disease. (5)
Propranolol has been clinically proven to reduce mortality and morbidity in people with hypertension who also have heart failure, angina, or a history of prior myocardial infarctions. (5) It is established that in patients with essential hypertension, propranolol works through several mechanisms, including peripheral vasodilation, central sympathetic blockage, cardiac output reduction, and renin-angiotensin-aldosterone–sympathetic axis inhibition. (6)
Propranolol can also improve the sympathetic response in patients with angina and tachyarrhythmias and avoid acute ischaemic episodes. (5)
Given that platelets play a vital role in the pathogenesis of cardiovascular diseases, research along these lines has highlighted that propranolol significantly decreased platelet aggregation. (6)
Propranolol in Managing Angina: Landmark Study Review: The Beta‑Blocker Heart Attack Trial was a landmark trial in the history of propranolol. It was a multicenter, randomized, double‑blind, placebo‑controlled trial (N = 3837), which was designed to evaluate whether the administration of propranolol post-myocardial infarction reduced mortality. Results were encouraging, with statistically significant decreases in total mortality (9.8% vs 7.2%, relative risk reduction (RRR) 26%, P < 0.005), cardiovascular mortality (8.9% vs 6.6%, RRR 26%, P < 0.01), mortality due to arteriosclerotic heart disease (8.5% vs 6.2%, RRR 27%, P < 0.01), and sudden death (4.6% vs 3.3%, RRR 28%, P< 0.05). The safety profile was also found to be generally well-tolerated (6, 7)
Positioning Propranolol in the era of cardio-selective beta-blockers: Exploring the Scope
Carvedilol had no meaningful advantage on left-ventricular remodeling or function following primary coronary stenting in acute MI as compared to propranolol. (8)
Because cardiac patients frequently have several comorbidities, propranolol may be appropriate for anxiety disorders which are widespread in people with cardiovascular diseases and are related to poor cardiovascular health, including the development and progression of coronary artery disease and heart failure. (6)
Propranolol's position as a beta-1 and beta-2 blocking agent also makes it a viable alternative for cardiac patients with coexisting hyperthyroidism or pheochromocytoma. (6)
Propranolol- Treatment Regime and Tolerability Profile Overview
Propranolol long-acting formulation with an 8–11-hour half-life has been developed. This sustained-release formulation offers the benefit of a once-daily dosage with comparable efficacy and higher patient compliance. Propranolol has variable bioavailability. Thus, the dosage must be adjusted based on patient response. The dose ranges from 80 mg to 320 mg/day. (6)
Propranolol is usually well tolerated. Common side effects (gastrointestinal problems, bradycardia, hypotension, fatigue, exertional dyspnea, bronchospasm, hypoglycemia, disorientation, weariness, and sleeplessness) are generally minor and can be treated conservatively without needing drug withdrawal. (6)
Key Pointers-
Angina poses a serious health burden, and despite conventional pharmacological therapies, a significant number of patients continue to remain symptomatic. (1)
Beta-blockers are one of the most widely used first-line agents among the different classes of conventional medications. (1)
Propranolol has withstood the test of time and has maintained popularity in managing angina, even after the dawn of cardio-selective blockers.
References
1. Balla, C., Pavasini, R., & Ferrari, R. (2018). Treatment of angina: where are we? Cardiology, 140(1), 52-67.
2. Task Force Members, Montalescot G, Sechtem U, et al. 2013 ESC guidelines on the management of stable coronary artery disease: the Task Force on the management of stable coronary artery disease of the European Society of Cardiology [published correction appears in Eur Heart J. 2014 Sep 1;35(33):2260-1]. Eur Heart J. 2013;34(38):2949-3003. doi:10.1093/eurheartj/eht296
3. Wu, T., Chen, X., & Deng, L. (2017). Beta‐blockers for unstable angina. The Cochrane Database of Systematic Reviews, 2017(11). https://doi.org/10.1002/14651858.CD007050.pub2
4. Manu, P., & Rogozea, L. M. (2016). Propranolol for Angina Pectoris. American Journal of Therapeutics, 23(6), e1285–e1286. doi:10.1097/mjt.0000000000000528
5. Shahrokhi M, Gupta V. Propranolol. [Updated 2022 May 8]. In: StatPearls [Internet]. Treasure Island (FL): StatPearls Publishing; 2022 Jan-. Available from: https://www.ncbi.nlm.nih.gov/books/NBK557801/
6. Srinivasan, A. V. (2019). Propranolol: A 50-year historical perspective. Annals of Indian Academy of Neurology, 22(1), 21.
7. A randomized trial of propranolol in patients with acute myocardial infarction. I. Mortality results. JAMA. 1982;247(12):1707-1714. doi:10.1001/jama.1982.03320370021023
8. Lee SH, Yoon SB, Cho JR, Choi S, Jung JH, Lee N, et al. The effects of different beta-blockers on left-ventricular volume and function after primary coronary stenting in acute myocardial infarction. Angiology 2008;59:676-81. MBBS,MD, DNB (Cardiology)
Dr Prem Aggarwal, (DNB Cardiology) is an Cardiologist by profession and also the Co-founder of Medical Dialogues. An avid researcher, he is currently associated with GB Pant Hospital (GIPMER) New Delhi as a PhD Fellow pursuing his research on the topic of Angioplasties on Surgical Rejects