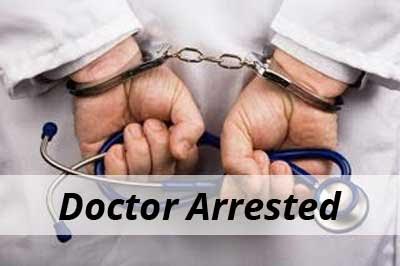 Mumbai: A 46 years old MBBS doctor associated with the Primary Health centre (PHC) has been arrested by the Anti Corruption Bureau (ACB) of Maharashtra, for allegedly taking a bribe of Rs 30.
The case relates to a medical practitioner, practising for over a decade as a class I officer in the PHC in Sangli district, developed by the state government to provide free medical treatment to villagers.
Things escalated and took a dramatic turn when a patient approached the MBBS doctor for the examination of his injured foot. The doctor suggested that he needs to take an injection for his injury and allegedly demanded Rs 30/- for the same.
................................ Advertisement ................................
However, the patient questioned his alleged demand seeking to know why he was charging money at a government-run hospital. Following the patient's refusal to pay a petty amount of Rs 30, the medical practitioner allegedly denied treatment.
................................ Advertisement ................................
The patient moved Sangli ACB and lodged a complaint application against the MBBS doctor. He alleged that the doctor used to take money from patients in lieu of treatment.
After verifying the allegations made by the patient, ACB laid a trap for the practitioner. The complainant was directed by the ACB officers to approach the doctor once again.
Also Read: On the run from CBI,Man caught teaching internal medicine to MBBS students at UP Medical College
With this, the patient once again went to the doctor and when the MBBS doctor demanded the bribe amount and accepted it, the officers caught him red-handed.
The government doctor working at the PHC in the Sangli has been booked and arrested under several sections of the Prevention of Corruption Act and the matter has been taken up for further investigation.
Rajendra Salunkhe, deputy superintendent of police, ACB (Sangli division), told Pune Mirror, "The complainant is a farmer who had a farm in Kurlap, where the doctor sits at the primary health care centre. He had injured his foot and wanted medicines for the same. The doctor claimed that he needed to take an injection shot and demanded Rs 30 for the same."
"He is a government doctor who was practising at Sangli from the last 11 years. He didn't even work at other centres. He had developed clout in the area and often demanded bribe from poor farmers coming at the centre for treatment. Many other patients also complained during the raid that he had been demanding money falsely," Salunkhe added.
The officials further stated that the MBBS doctor allegedly used to charge money in the range of Rs 30- Rs 50 for medicines and injections while Rs 100 for IV fluids claiming that he purchase the products from Pune at a high amount.
As per the Central Government and State Government's rules, the government doctors posted at a primary health care centre in rural areas are supposed to charge only Rs 2 for the application form and the treatment is free for poor patients.
Farhat Nasim joined Medical Dialogue an Editor for the Business Section in 2017. She Covers all the updates in the Pharmaceutical field, Policy, Insurance, Business Healthcare, Medical News, Health News, Pharma News, Healthcare and Investment. She is a graduate of St.Xavier's College Ranchi. She can be contacted at editorial@medicaldialogues.in Contact no. 011-43720751
To know about our editorial team click here
8 comment(s) on Caught Red handed: MBBS Doctor arrested for taking Rs 30 bribe