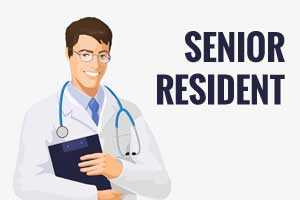 New Delhi: Through a recent notification addressed to the heads of all central government health institutions, the Ministry of Health has announced the raising of age limit from 33 to 37 years for appointment of Senior Residents in the Central Govt. Hospitals / Institutions including Statutory / Autonomous bodies wholly financed by the Central Govt
The move follows the recent amendments of the Medical Council of India vide Minimum Qualifications for Teachers in Medical Institutions Regulations ( amendment ), 2017 which among other things revised the definition of  a Senior Resident (Broad Specialities) as
 "Senior Resident is one who is doing his/her residency in the concerned post graduate subject after obtaining PG degree (MD/MS) and is below 40 years of age
Earlier the same upper limit by the council was 33 years.
Following the changes in the Act, the Central government has now announced the new upper age limit for the post of SRships in their health institutions
In the above background, representations have been received in the Ministry for raising the upper age limit for appointment as Senior Residents under the Residency Scheme of the Central Govt. The matter has been examined in consultation with DirectorateGeneral of Health Services and it has been decided that the upper age limit for appointment to the post of Senior Resident in Central Govt.

Hospitals/ lnstitutions including Statutory/Autonomous bodies wholly financed by the Central Govt. shall be 37 years with immediate effect. The age limit is relaxable by 5 years for SC/ST candidates.
0 comment(s) on Central Government revises Upper Age Limit of SR Ship to 37 years