Chennai: Stanley Medical College likely to be provided NABH certification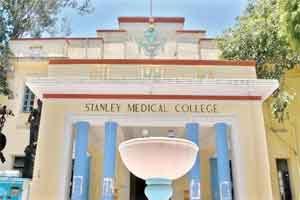 Tamil Nadu: Stanley Medical College and Hospital in Chennai is likely to be declared as the fisr government medical college hospital in the state to receive a National Accreditation Board for Hospitals and Healthcare Providers (NABH) certification.
Currently the pre- accreditation is under process for the entry-level award assessment in the hospital. The assessment is likely to continue for the next three to six months to ensure that the specific conditions required and those highlighted as lacking can be implemented. The process for the full final accreditation would take another year to be completed.
The NABH is a constituent board of the Quality Council of India (QCI) is doing this assessment.
During the assessment procedure, NABH is most likely to assess various factors such as care of patients, management of medication, patient rights and education and hospital infection control, continuous quality improvement, facility management and safety.
"We are now improving on cleanliness in the hospital and also training staff nurses in infection control and other safety managements. We are at the preparatory level for the accreditation, and it will take three to six months to finish this self-assessment process," Dr Isaac Christian Moses, Dean of the hospital, told Express.
First set of staff nurses are being trained in infection control and equipment maintenance in the hospital at all times to meet emergency. They are also being trained in maintenance of patient records and biomedical waste management, hospital authorities said. "We are correcting lapses, if any," a member from the NABH said, adding that the process was still in the nascent stage.