Chhattisgarh: Modern hospital opens in Naxal-hit Bastar to take care of troops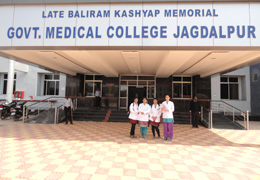 A state-of-the-art hospital has been constructed and opened in Jagdalpur area of Naxal-hit Bastar district in Chhattisgarh. The Baliram Kashyap Medical College cum hospital is worth Rs 300 crore.
Since Bastar is a Naxal-hit area and prior to this hospital, the injured security forces personnel had to be shifted 300 kilometres away to Raipur for the quality treatment. Due to the delay in the treatment, many personnel succumbed to their injuries. However, now, the injured personnel will be meted out with the immediate treatment.
This advanced hospital laden with all the facilities will not only benefit the personnel deployed on the Naxal fronts but also major chunk of the local population.
The grandeur hospital has modern, advanced operation theatre; up-to-the-minute machinery and equipments. The hospital currently has 300 beds and specialist doctors.
Baliram Kashyap Hospital engenders hundred medical graduates every year making up for the existent dearth of the doctors in the state.
Chhattisgarh Chief Minister Raman Singh told ANI, "The state government aimed at providing medical facilities in Bastar. The government is endeavouring to further expand similar medical facilities to other Naxal-hit areas of Sukma and Bijapur. This hospital will aid in the development of our future generation."
This hospital is boon for the forty lakh tribal people. The locals of Bastar are of the view that the major concern now would be to ensure the consistent availability of the quality doctors.