Children still dying at Gorakhpur BRD Medical College Hospital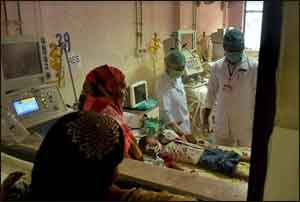 Lucknow: The story of children's death at Gorakhpur BRD Medical College and Hospital is still on. As per the recent media reports, 42 childrens die in last 48 hours. While 7 children have died due to encephalitis, other reasons have been cited for other deaths, according to PK Singh, Principal of BRD Medical College.
"42 children died in 48 hours of which seven due to encephalitis, rest due to other reasons," PK Singh, Principal BRD Medical College told BS
A total of 290 children have died in the Baba Raghav Das Medical College here in the month of August, of which 213 died in the neo natal ICU and 77 in the encephalitis ward, principal P K Singh said. There have been 1,250 deaths since January this year at the hospital, especially in encephalitis, infant and children's wards, he said.
Giving a break up of the causalities at the infamous medical college, Singh said 37 children have died on August 27 and 28, of which 26 died in the neo natal ICU (NICU) and 11 in encephalitis ward. The toll in January was 152 (143 in NICU and nine in encephalitis ward), in February it was 122 (117 and five), in March 159 (141 and 18), in April 123 (114 and nine), May 139 (127 and 12), June 137 (125 and 12), July 128 (95 and 33), he said.
The principal said children with different complications and ailments arising out of premature delivery, under weight, jaundice, pneumonia, infectious diseases and encephalitis are admitted to the hospital, mostly in a very serious condition. "A lot many lives can be saved if patients are brought here earlier," Singh stressed.
Uttar Pradesh Chief Minister Yogi Adityanath had formed a committee on August 12, a day after the death of childrens were reported at the hospital. The state government had also shunted out additional chief secretary medical education Anita Bhatnagar Jain.
Medical Dialogues team had earlier reported that Former Principal of the government- run BRD medical college in Gorakhpur Dr Rajiv Mishra and his wife were picked up by Uttar Pradesh's Special Task Force (STF) for questioning in connection with the deaths of 60 children within a span of 48 hours.
Mishra and his wife Dr Purnima Shukla, who are named in an FIR lodged by the UP government, were taken into custody from Kanpur, an STF official said.
Read also: Ex-BRD principal,Dr Rajiv Mishra; wife Dr Purnima Shukla picked up by UP police