China set to advocate 'one couple, two children' policy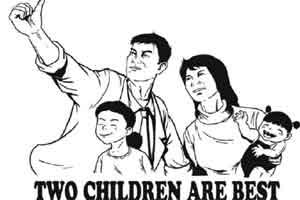 Beijing: China, the world's most populous nation, is set to amend its controversial family planning policy to allow couples to have two children policy to counter shrinking work force and a rapidly ageing population which has already reached 212 million last year.

"The State advocates that one couple can give birth to two children," a draft amendment submitted for review at the bi-monthly session of the National People's Congress Standing Committee said, amid reports that not many of 100 million couples who could benefit from the new policy were interested to have a second child in view of growing costs of bringing up an additional kid.

The draft came after the Communist Party of China Central Committee decided in October to give the go ahead for the universal two-child rule, which will replace the decades-long "one couple, one child" policy.

Li Bin, head of National Health and Family Planning Commission (NHFPC), said the CPC's decision was made to adapt to the transition of China's population from young to old currently underway.

In order to implement the decision, the top legislature must amend the family planning law which took effect in 2002.

Under the current law, citizens who marry late and delay childbearing may be entitled to longer nuptial and maternity leaves. Couples who volunteer to have only one child in their lifetime enjoy rewards.

The articles were deleted in the draft, implying the new law will likely take effect on January 1, 2016.

The three-and-a-half-decade-old one child policy has been changed by the ruling Communist Party of China as the country faced grim demographic crisis.

China has a population of 1.3 billion, the largest of any country in the world.

The number of people aged 60 or over in China reached 212 million at the end of 2014, accounting for 15.5 per cent of the country's population, with the number of disabled elderly people approaching 40 million, statistics from the National Health and Family Planning Commission showed, state-run Xinhua news agency reported.

The UN has predicted that people over age 65 will account for 18 per cent of China's population by 2030, double the number in 2011 which will have a negative bearing on China's labour availability.

By 2050, China is expected to have nearly 500 million people over 60, exceeding the population of the US, according to the UN predictions.

In 2013, China relaxed its birth rules, allowing couples to qualify for a second birth if one of the partners was an only child.