Clinical establishment act to soon become reality in all states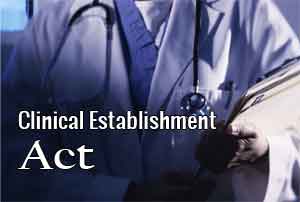 New Delhi: Union Health Minister JP Nadda asked chief ministers of all states to adopt and implement the Clinical Establishment (Registration and Regulation) Act, 2010 to curb malpractices in private health sector.
The letter comes in the backdrop of incidents of alleged overcharging and negligence by Fortis and Max hospitals in Gurgaon and Delhi respectively.
Effective implementation of the Act, enacted with a view to prescribing the minimum standards of facilities and services provided by clinical establishments, would deter them from indulging in unethical practices and ensure that they discharge their duties responsibly towards the patients, he said.
Till now, five states including Arunachal Pradesh, Rajasthan, Jharkhand and Assam, and all Union Territories except the NCT of Delhi have adopted and implemented the Act.
States such as Sikkim, Mizoram, Bihar, Uttar Pradesh and Uttarakhand have adopted the Act, but are yet to implement it.
"You would agree that such a pertinent area should not be left unregulated. Ergo, I call upon you to adopt this comprehensive legislation in your state for effective regulation of clinical establishments and thereby prevent recurrence of such unsavoury incidents in the interest of patients," Nadda said in the letter.
He said the recent public ire, widely covered by the national and local media, over excess charging for health care services and professional negligence on the part of some private hospitals have once again put the issue of affordable and assured healthcare services to the citizens in public domain.
"As you are kindly aware the Government of India has enacted the Clinical Establishments (Registration and Regulation) Act, 2010 and notified the rules framed thereunder. This comprehensive Act provides for registration and regulation of different categories of clinical establishments in government as well as private sector," he said.
"Alternatively, you may even consider bringing a state-specific legislation in the matter if adoption of the Act is not found suitable," he added.
Earlier, the Union Health Secretary asked all states to issue strict warnings and take action against hospitals, including private ones, which indulge in malpractices such as overcharging and don't follow standard treatment protocols.
The bureaucrat also drew attention to the alleged malpractices by various clinical establishments in the recent past.
These include exorbitant charges, deficiency in services, not following the standard treatment protocols, etc, resulting not only in compromised patient safety but also concerns about transparency and accountability in healthcare costs, the health secretary said.
The clinical establishment act was enacted by the Centre to provide for registration and regulation of all clinical establishments in the country with a view to prescribing the minimum standards of facilities and services provided by them.
The act is applicable to all types (both therapeutic and diagnostic types) of clinical establishments in the public and private sectors.
Under the act, standard treatment guidelines are specified for 227 diseases, including dengue, chikungunya and malaria. The hospitals are supposed to abide by minimum standards in terms of infrastructure, services, staff, equipment and lighting arrangements among others.
A technical committee is to be set up to decide on charges for treatment of diseases and procedures at clinical establishments, including private hospitals.
Health facilities are supposed to display the charges for each procedure and facility to keep the patient informed in advance. Failure to adhere to these guidelines would result in the imposition of penalty.