Coming Soon: New MBBS Curriculum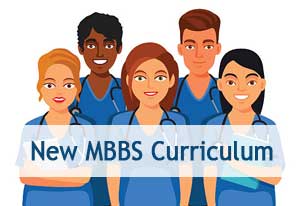 Practical Based Approach, Right from the first year 
New Delhi: Medical Students across the country, will be getting a new curriculum for MBBS education from next year, as the Medical Council of India as well as the Central Government are making strides in bringing the new syllabus to reality. The development will mark the change in the syllabus after a long span of almost two decades.
The course structure, which has taken almost two-and-a-half years to prepare, recently took a step forward by getting the in-principal nod of the Oversight Committee. The curriculum, called 
Competency Based Integrated Curriculum for UG Medical Education 
aims to instill a practical based training approach to medical education, with students getting practical exposure from the very first year. It will see a three pronged strategy to develop problem based learning and develop skill based competencies of medical students.This will be done through integration of three aspects- classroom teaching, hospital based medicine and community medicine.
It will also see addition of new modules including those of mental health, public health, medico-legal as well as Attitude Ethics and Communication. For the purpose of teacher training, the course has been included in the National faculty development program, with around 40,000 medical teachers being imparted training for the same through the MCI faculty development program. The training is expected to be competed by this year end. The government and the council aim to launch this course in 2019-20.
Read Also: 
Medical Council of India initiates new MBBS Curriculum
The New Indian Express Reports that the curriculum will be notified soon.
"The new curriculum has been approved in principle by the oversight committee of and will be notified very soon. The aim is to help produce doctors much more patient-friendly, competitive, ethical and abreast with the latest in the medical sciences," a senior health ministry official told
The New Indian Express.