Convene health ministers meeting: Jain tells Nadda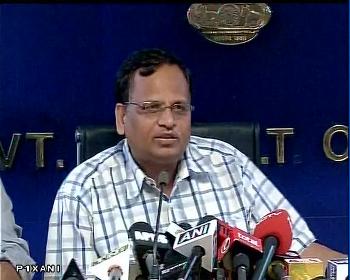 New Delhi: The Delhi government urged Union Health Minister J.P. Nadda to call a meeting of health ministers of Delhi and neighbouring states to review healthcare facilities.
Delhi Health Minister Satyendar Jain made the appeal as many of the dengue and chikungunya patients come to Delhi hospitals from other states.
In a letter to Nadda, Jain said the Delhi government was making best efforts to coordinate with the union health ministry and its hospitals to tackle the outbreak of dengue and chikungunya.
"Many of the patients coming to Delhi hospitals are from neighbouring states in the NCR. They rush to Delhi hospitals apparently due to lack of proper healthcare facilities in their states," the minister said.
He said this put pressure on the medical infrastructure in Delhi, particularly in government hospitals.
"It is, therefore, requested that a meeting may be convened inviting the health ministers of the NCR region to review the state-wise action required to augment healthcare facilities for effective tackling of the issue," Jain added.
Earlier, Jain praised doctors in Delhi government hospitals and said that many beds were vacant at many government hospitals even now.
"We are ready to treat all the patients. People should not panic as chikungunya doesn't kill," he said, adding that some patients may however have other complications too.
According to municipal corporation data, the number of dengue, chikungunya and malaria infection in Delhi stood at 1,158, 1,057 and 21 respectively.
According to the civic bodies, the highest dengue cases were reported in 2015 when 15,876 people were infected by the vector-borne disease and 60 people died.