Corruption Charges: 106 Delhi Government Doctors under Vigilance Radar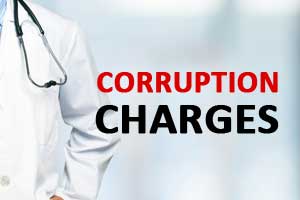 In December last year, the department released the list consisting of 102 doctors. This time, the list consists of 106 doctors.
New Delhi: Recently, the Health and Family Department of the Government of NCT of Delhi, has released a vigilance status report mentioning 106 doctors against whom corruption enquires are pending.
The list mentions the names of the doctors who have many kinds of corruption cases against them, including procurement of medical equipment at exorbitant rates, favoring a particular private company to give tenders or other financial irregularities.
Medical Dialogues team had earlier reported that In December 2017, the similar list was released by the department consisting of 102 doctors. These doctors were being probed under various issues of irregularities with irregularities in purchase being the dominant issue for vigilance probe.  Some of the varied reasons for vigilance probe included:


Irregularities in purchase of medical equipments as well as consumables


Tampering of tender process for purchase


Theft of medical items from hospitals.


Collusion/Irregularities in cases of outsourced services such as security, safai karamcharies etc


Misusing official positions leading to a loss to exchequer and gain to private parties.


Unauthorized absence,


Disobedience,


Demanding illegal gratification for issuing Medical Fitness Certificate


Medical Negligence,


Bribery


Sex determination etc


This time around, the list consists of 106 doctors, however, some doctors listed in the older vigilance probe list have been omitted from this new list, reports DNA.
Read Also: 102 Delhi Doctors under Vigilance scanner, disallowed foreign travel
"As I compare the two lists, I can clearly give names of the doctors who have been accused of such cases in the past, FIRs are registered against their names, but the names have been removed from the new list," a doctor, whose name is on the list claimed while speaking to DNA.
While some old names are missing, some new names have been added.
"I am directed to enclose herewith a list having details of vigilance status in respect of new cases and revised status in some old cases containing 106 names. Besides this, action taken report, as requested vide this Directorate's letter is still awaited despite reminders," said an internal note of the department.