Court comes to rescue of doctors harassed in medical negligence case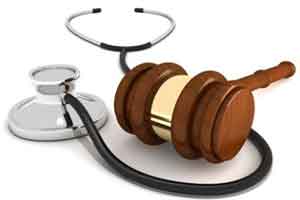 Lucknow: The lucknow bench of UP high court came to the rescue of 2 senior doctors after they complained that they were being harassed by the police authorities and a lawyer in a medico-legal case.

TOI reports that the court has clearly directed Mahanagar and Jankipuram police station house officers not to approach the house of two senior doctors of Fatima Hospital and not to take any action against them or their family members in connection with a case lodged by a local advocate who accused the two doctors of committing medical negligence in treatment of his wife and newborn baby in August 2015.

The court asked the SSP to comply with the direction. This came after a senior pediatrition at  Fatima Hospital, Dr Kavita Bansal filed a writ petition with the court, alleging that a local lawyer was harassing them unnecessarily .

The doctor also alleged that the lawyer had lodged a false case of his wife and baby being ill-treated in the hospital "The CMO had conducted an enquiry into his complaint and found there was no negligence and on that basis police had submitted final report on the FIR filed by the lawyer," the petition added.

After this, the lawyer filed a complaint in the court of  additional chief judicial magistrate court no 25, where the ACJM took cognizance and issued summons to the doctors. However, no summons reached the doctors, with the doctors being shocked when finally the police reached their residence with a non bailable warrant.

TOI adds that when Dr Bansal's husband along with another advocate went to court to know details of the case,the lawyer and his associates allegedly threatened them against coming to the court.

Finally with the writ in the high court, the honoriable court citing an earlier SC verdict stated "A doctor accused of negligence should not be arrested in a routine manner simply because a charge has been leveled against him." It then directed issued directions to the police and with the district judge also being moved for compliance of directions.