Coverage and Budget of Rashtriya Swasthya Bima Yojana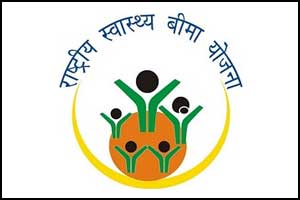 New Delhi:
Through the written reply in Rajya Sabha, the Minister of State (Health and Family Welfare), Shri Ashwini Kumar Choubey informed about the Coverage and Budget of Rashtriya Swasthya Bima Yojana.
The minister informed that the Government is implementing Rashtriya Swasthya Bima Yojana (RSBY), a centrally sponsored health insurance scheme which covers BPL families (a unit of five) and 11 other defined categories namely Building & Other Construction Workers, licensed Railway porters, Street Vendors, MGNREGA workers (who have worker for more than fifteen days during preceding financial year), Beedi workers, Domestic workers, Sanitation workers, Mine workers, Rickshaw pullers, Rag pickers and Auto/Taxi drivers, who are enrolled under RSBY. They are entitled for cashless health insurance coverage of Rs. 30, 000/- per annum per family. Beneficiaries need to pay only Rs. 30/- at the time enrolment.
Senior Citizen's Health Insurance Scheme (SCHIS) for Senior Citizens of age 60 years and above belonging to above said categories has also been implemented w.e.f. 01.04.2016 as top of RSBY. The health coverage is upto Rs. 30,000/- per annum per senior citizen for treatment packages, over and above RSBY entitlement.
The details of target set and achievement made during the last two years including Assam and North Earthen States is at Annexure.
There was no substantial reduction in the central share release under RSBY during the year 2016-17. The reduction in release of central share is due to decrease in number of implementing States.




RSBY scheme: Statewise Status for Financial year 2016 – 2017




S.NO.


STATE


TOTAL TARGETTED FAMILIES


NO. OF ENROLLED

FAMILIES






A


C


D




1


ASSAM


2371950


1421104




2


BIHAR


13921372


7028409




3


CHHATTISGARH


4869167


4146227




4


GUJARAT


4653237


2691497




5


HIMACHAL PRADESH


877763


480588




6


KARNATAKA


10031663


6206620




7


KERALA


2275554


2060802




8


MANIPUR


120237


70925




9


MEGHALAYA


479743


256138




10


MIZORAM


243407


194886




11


NAGALAND


518476


255314




12


ODISHA


6158498


4462959




13


TRIPURA


768359


481331




14


UTTARAKHAND


728216


285229




15


WEST BENGAL


11100347


6290446






TOTAL


5,91,17,989


3,63,32,475








RSBY scheme: Statewise Status for Financial year 2016 – 2018




S.NO.


STATE


TOTAL TARGETTED FAMILIES


NO. OF ENROLLED

FAMILIES















ASSAM


2371950


1421104















BIHAR


13921372


7028409















CHHATTISGARH


4869167


4146227















GUJARAT


4653237


2691497















HIMACHAL PRADESH


877763


480588















KARNATAKA


10031663


6206620















KERALA


2044417


2044417















MEGHALAYA


529614


130516















MANIPUR


120237


70925















MIZORAM


243407


194886















NAGALAND


518476


233328















ODISHA


6158498


4462959















TRIPURA


768359


481331















WEST BENGAL


11100347


6290446






GRAND TOTAL


58208507


35883253