Create awareness on lifestyle diseases: Vice President to Doctors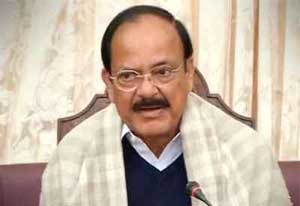 Hyderabad: Vice President, M Venkaiah Naidu has called upon doctors to create awareness among the people on the dangers posed by lifestyle diseases and the need to promote healthy living.
Inaugurating a free Medical Camp jointly organized by the Asian Institute of Gastroenterology and the Swarna Bharat Trust (SBT) in the latter's premises here on Sunday, Mr Naidu emphasized that people must made to pay greater attention towards their health and wellness as prevention is better than cure. He said that a healthy nation can become a wealthy nation but not vice- versa. The spending on health care will naturally come down if people are healthy, he added.
Expressing his anguish over the lack of adequate medical facilities in Rural Areas, he lauded the Union Government for launching Ayushman Bharat to provide health insurance cover to five crore families in rural areas and 2.5 crore families in urban areas. The scheme would provide coverage of up to Rs. 5 lakh per family every year. The Vice-President also complimented the government for planning to establish one primary health centre for every 5,000 population and increase their number to 1.5 lakh.
He expressed his deep appreciation to the eminent gastroenterologist and Chairman, Asian Institute of Gastroenterology, Dr D Nageshwar Reddy for organizing the free medical camp at SBT. Lauding Dr Reddy for being service-minded, he said such qualities must be imbibed by every healthcare professional.
Later speaking after giving away 'Rythu Nestham' awards, the Vice President warned that there was a danger of farmers leaving agriculture unless farming was made profitable and viable. He said the emphasis should be on bringing down the input costs and not only on increasing productivity. The indiscriminate use of fertilizers, pesticides, electricity and water also need to be curbed, the Vice-President said.
Referring to the initiative taken by him to conduct National Consultations on making Agriculture profitable, Mr Venkaiah said that Scientists must ensure Research outcome must directly reach the farmers (Lab to Land).