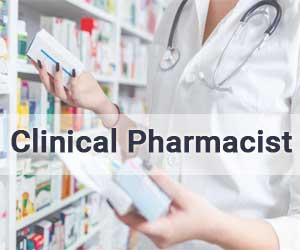 New Delhi: In a major relief to Pharma D students, the Pharmacy Council of India (PCI) has okayed the proposed amendments in the Pharmacy Practice Regulations, 2015, for the inclusion of the post of clinical pharmacists with qualification, duties and responsibilities. As per the new amendments, a person with Pharm.D from an institution approved by the PCI can be appointed to the post of clinical pharmacist.
Confirmation to this effect was given by the PCI after deliberating the proposed amendments in the 107th Central Council meeting held this month.
As per the documents, Clinical pharmacists provide direct patient care that optimizes the use of medication and promotes health, wellness, and disease prevention. Though the Pharmacy Practice Regulations, 2015 define the term "Clinical Pharmacist" as pharmacy practitioner under regulation 2(4) (iv), the details of Position Title and job responsibilities in respect of Clinical Pharmacist is not included in Appendix-Ill of the said Regulation along with Pharmacist, Senior Pharmacist, Chief Pharmacist, Community Pharmacist and Drug Information Pharmacist.
................................ Advertisement ................................
Accordingly, it was decided to initiate action for amendment of the Pharmacy Practice Regulations, 2015 by incorporating the details of Position Title and job responsibilities in respect of Clinical Pharmacists also. In addition, a provision to create Drug Information Centers in hospitals will also be included in these Regulations.
"It was decided to approve the proposed amendments in the  Pharmacy  Practice Regulations, 2015 for – a) inclusion of the post of Clinical Pharmacist with qualification, duties and responsibilities; b) creation of Drug Information Centres in Hospitals," reads the official announcement.
................................ Advertisement ................................
The council has decided to forward the amendments to the Health Ministry and simultaneously initiate action u/s 10(3) of Pharmacy Act, 1948 for seeking comments of the State Government / Union Territories within three months from August 2019.
Also Read: Yes, Pharma D pass outs allowed to use DR Tag: Health Minister tells parliament
Proposal for amendment in the Pharmacy Practice Regulations, 2015
To include the following before the heading "Objectives For Making Practice Regulations" in the Pharmacy Practice Regulations. 201.5:-
"A.    Details of Position Title and job responsibilities of Clinical Pharmacist
Job Identification:

Position Title: Clinical Pharmacist
Job Location (As appropriate): Hospitals

Purpose, Duties and Responsibilities
Purpose: To provide patient care that optimizes the use of medication and promotes health, wellness and disease prevention in collaboration with physicians and other health care professionals.
Core Responsibilities and Activities
Evaluate all Medicare coverage requirement requests and ensure compliance to all clinical procedure and coordinate with pharmacy and medical staff to perform regular interventions according to present drugs.
Perform regular evaluation on all usage and dosage and ensure an absence of all reactions and assist all patients with an assessment of patient orders and prescription infusion and ensure adherence to all laws and regulations.
Gather, maintain and analyze all laboratory data and record all required patient information and make recommendations to change a dosage if required.
Administer and complete all pharmacy care plans and perform reconciliation of all medication and supervise all sterile mixing processes.
Review all medications and equipment and ensure accuracy and effective functioning and manage all communication with physicians and patients and assist to resolve all patients within a required timeframe.
Maintain a record of all medication for patients and ensure an absence of all discrepancies and analyze all side effects and drug interactions.
Retrieves clinical information for monitoring and revision of the medication use process
Coordinate with all medical case managers and evaluate all high-risk members to prevent all risks and participate in all patient associated meetings.
Prepare all clinical documents and participate in all on-call activities for pharmacy and evaluate all pharmacy claim data and identify all clinical savings.
Attend all therapeutic and pharmacy committee meetings.
Design and maintain all medication protocols for all clinical pharmacists and coordinate with all clinical team members to ensure optimal services.
Provider support to all clinical programs and ensure compliance to all medication process and evaluate all data to administer all drug utilization patterns.
Monitor all departmental activities and analyze all Quality improvement activities and present all annual studies for management.
Serve as a Drug Information resource.
Other Responsibilities and Activities: 
Contribute to drug use management activities.
Work with other faculty on drug information service-related projects as needed.
Attend a major/ national pharmacy meeting.
3. Knowledge and Skills Requirements (Minimum requirements  for the performance of work described (Level of Education, Knowledge, Skill and Ability):
3.1 Education: Pharm.D from an institution approved by the PCI.
3.2 Training:
Involvement in formulary development, drug use evaluation, and quality assurance activities. Ambulatory care experience
Ability to research and analyze the medical literature including drug information, disease states, and clinical practice guidelines
Extensive knowledge of pharmacy and its related subdisciplines (therapeutics. physical pharmacy). formulary development. drug use review. Quality assurance, legal, regulatory, and standards of practice.
3.3 Length and type of practical experience required: New recruit
3.4 Knowledge of language(s) and other specialized requirements: Should be fluent in English and regional language
4. Complexity of Work (details of the intricacy of tasks, steps, processes or methods Involved in work, difficulty and originality involved in work):
The responsibilities involve monitoring the patient and providing health education which will have a direct impact on the overall health of the population and disease management. Its jurisdiction encompasses a wide range of pharmaceutical services.
5. Scope and Effect of Work (Details of the breadth of work performance, and the effect the work has on the work of others or the functions of the organisation)'
Drugs are the lifelines of the health system. The success or the health care system depends on how various factors like patient compliance to the medicines, cost, and supply, rational utilization of resources, minimization of wastages and rational prescribing. A Pharmacist is fully involved in carrying out and promoting them, thus contributing to the overall economy of the nation. The pharmacist is directly involved in counselling the patients. advising the prescribers on rational selection of drugs and therefore it has a direct impact on the overall patient care.
6. Instructions and Guidelines Available:
6.1: Instructions (Details of the controls exercised over the work by the Superior; how work is assigned, reviewed and evaluated ):
Work is carried out based on the annual work plan and regular supervision from the senior pharmacists.
6.2: Guidelines (written or unwritten guidelines that are available, and the extent to which the employees may interpret, adapt or devise new guidelines):
Annual work plan
Standard Operating Procedures/ hospital guidelines on pharmaceutical care and services
Pharmacy Act and other statutory law s as specified in the Regulations.
7. Work Relationships (The frequency, nature and purpose of contact with others within and outside the assigned organization(other than contact with superiors):
A pharmaceutical service requires constant interaction with patients and other professionals to monitor. advise and follow-up on drug efficacy, any side effects and complications. TUG profession also requires constant interaction with different health professionals at various levels to provide the best patient care.
B. Creation of Drug information Centre in Hospitals
All hospitals shall  have a Drug Information Centre headed by Drug Information Pharmacist.
Objectives of Drug Information Centre
The Drug Information Centre shall provide information and advice regarding drug interactions. side effects. dosage and proper medication storage to patients/ physicians/ dentists/other health care professionals.
Drug Information Centre Activities
Providing Drug Information to patients, caregivers, and health care professionals.
Creating and maintaining a currency of a variety of print and online educational resources for patients (e.g. tip sheets. pamphlets) and health care professionals eg., in-service documents. newsletters) on topics such as optimal medication use, general health or select clinical questions.
Educating health care professionals on safe and effective medication-use policies and processes including development of resources to communicate this information.
Leading or participating in continuing education services for health care professionals.
Precepting and educating pharmacy students and residents.
Participating in quality improvement research projects and drug cost analyses.
Contributing to the biomedical literature and providing peer review for other contributors."
Author Details
Farhat Nasim joined Medical Dialogue an Editor for the Business Section in 2017. She Covers all the updates in the Pharmaceutical field, Policy, Insurance, Business Healthcare, Medical News, Health News, Pharma News, Healthcare and Investment. She is a graduate of St.Xavier's College Ranchi. She can be contacted at editorial@medicaldialogues.in Contact no. 011-43720751
To know about our editorial team click here
................................ Advertisement ................................
2 comment(s) on Creation of Cadre of Clinical pharmacists at Hospitals: PCI approves amendments, Check out what they will Do