Irregularities in Purchase at AIIMS: HC to hear plea seeking lodging of FIR against CBI officials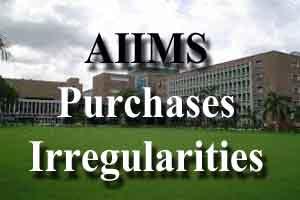 New Delhi: The Delhi High Court agreed to hear a plea seeking registration of an FIR against senior officials of the CBI for allegedly making false statements in connection with alleged irregularities in purchase of items for surgery department and trauma centre of AIIMS.
"We are not going to pass any order today, but we will hear it on July 21," a bench of Acting Chief Justice Gita Mittal and Justice V K Rao said.
The application was moved in a pending PIL filed by the Centre for Public Interest Litigation seeking a probe into a number of corruption cases at AIIMS which were unearthed by former Chief Vigilance Officer Sanjiv Chaturvedi during his tenure between 2012 and 2014.
The application filed through advocate Prashant Bhushan alleged that "the agency has lied" in its affidavit that it has not received any information from Chaturvedi in relation to the then store-keeper of AIIMS -- Jai Prakash Narayan Apex (JPNA) Trauma Centre.
Recently, the Indian Forest Service officer, presently serving as Conservator of Forest (Research) at Haldwani in Uttarakhand, had opposed the stand of Ministry of Health and Family Welfare on the issue.
The submissions by the ministry and the officer were made in the pending petition by the NGO.
The NGO, in its PIL, had claimed that despite there being prima facie findings of corruption by CBI and the then CVO against some of senior functionaries of AIIMS, no steps were being taken to register a case.
The NGO had also alleged that an attempt was being made to close the cases through collusive departmental enquiry.
However, CBI, in its latest affidavit, has said "it is submitted that CBI in its findings have found no criminality on the part of officials or officers of AIIMS and hence no FIR was registered".
The CBI's stand was similar to that of the Ministry of Health and Family Welfare which, in its reply to the NGO's application, has said the allegations made against some of senior officials "could not be established".