Delhi: 2 Doctors at Bara Hindu Rao Hospital assaulted, FORDA observes Black Day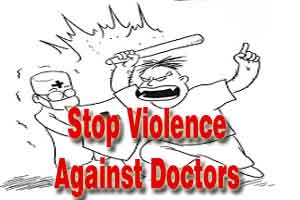 Condemning the Hindu Rao Doctors' attack, representatives of Federation of Resident Doctors Association (FORDA), the umbrella body of resident doctors in the capital called for observing a Black Day on 1st July
New Delhi: As doctors across the country today are moving towards the the Doctors's Day celebrations, reports of medical practitioners being assaulted continue to pour in.
Two doctors Rajesh Kumar and Pranay were allegedly beaten up on Saturday by the relatives of the deceased woman,here at Bara Hindu Rao Hospital as a clash allegedly broke out between doctors and relatives of a deceased patient at Bara Hindu Rao Hospital here late Saturday night, police said Sunday.
According to police, a chronic kidney failure patient, Rajbala, a resident of Roop Nagar here, was admitted in critical condition in the casualty ward of Hindu Rao Hospital on Saturday at around 11.40 pm.Rajbala died during treatment, following which her husband, son and other relatives started quarrelling with the doctors on duty, police said.
During heated exchanges, Rajbala's son allegedly slapped a doctor, they said. Soon after more doctors poured in and a scuffle broke out in which two doctors sustained minor injuries, a senior police officer said.
The doctors immediately went on flash strike demanding more security.
Read Also:NRS Medical College Doctors go on Strike after Deceased Patient's Family attacks Colleague
A case was registered against the deceased's relatives based on the complaint of Dr Jagmohan from the hospital's human resource wing on behalf of Kumar and Pranay, police said.
Meanwhile, the relatives of Rajbala submitted a written complaint, alleging negligence and delay in treatment by the doctors resulting in her death, police said. The body has been sent to the mortuary for post-mortem, they said, adding the autopsy report will help ascertain the claims of negligence.
The situation in the hospital is normal and police personnel have been deployed at the casualty wing and mortuary, police said.
Meanwhile, condemning the attack, representatives of Federation of Resident Doctors Association (FORDA), the umbrella body of resident doctors in the capital called for observing a Black Day on 1st July
" On this very day dedicated to Doctors celebrated as National Doctors Day' 'two of our colleagues from Hindu Rao Hospital were assaulted brutally. A terminally sick patient on hemodialysis(Not undergoing Hemodialysis and Prescribed treatment) and comorbidities was brought to ER In critical condition.
Working with limited resources and a threat to their life doctors could not save the patient despite their best possible efforts. That angered the attendants of the patients and they attacked the doctors. Emergency health care services were brought to halt by the deadly attack on doctors, endangering lives of critically sick patients requiring urgent medical care. The assaulters walked unscathed after the attack and had no remorse of assaulting a young budding doctor putting his lives in service of mankind," the association representatives stated.
"We stand by our fellows from Hindu Rao Hospital demanding action against the culprits and beefing up of security at hospitals," the release added
Earlier this month, a similar incident took place in Kolkata, West Bengal. Junior doctors at the state-run NRS Medical College were allegedly assaulted by the relatives of a 75-year-old patient after he died due to alleged negligence.
After the incident of violence, healthcare services were disrupted in West Bengal for nearly a week.