Delhi Cabinet nod to increase bed capacity of under-construction Burari hospital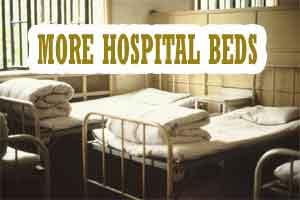 New Delhi: The Delhi Cabinet today approved to increase the bed capacity of an under-construction hospital in Burari to 768, which would be a modern, green building equipped with the latest facilities.
The Cabinet, in its meeting chaired by Chief Minister Arvind Kejriwal, also approved doubling of financial incentives for ASHA workers.
"The Cabinet approved the department of health's proposal for the revised estimate of Rs 265.80 cr for increasing the capacity to 768 beds from the earlier proposal of 200 beds at the under-construction new hospital at Burari," according to a statement released by the city government.
According to the information provided by the public works department (PWD), 85 percent of the hospital structure has been completed so far, it said.
"The project has been reviewed and it was decided that some structural adjustment is required to accommodate more number of beds in this new hospital, which will provide health care to the residents of Delhi," the statement said.
The new hospital would be a seven-storeyed structure and the latest proposal of having 568 more beds will be achieved with a revised estimate of Rs 265.80 cr instead of Rs 200 cr estimated earlier.
"Salient features of the under-construction building include a barrier-free environment to cater to the needs of physically-challenged persons for which specific changes in building designs have been done.
"The modern building with all the latest facilities would be energy-efficient and is a green building aimed at reducing the dependence on electric lighting and air-conditioning. Approximately 1,700 posts will have to be created for making this new hospital functional," it said.