Delhi CM for decentralisation of power for city hospitals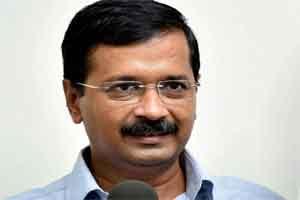 New Delhi: Chief Minister Arvind Kejriwal pitched for "decentralisation of power" for city government-run hospitals, saying it will help these institutions in recruiting staff.
He said there was an "urgent need" to decentralise hospitals for their better functioning.
"The biggest impediment was keeping the powers centralised by trying to run these institutions from the Delhi Secretariat, which is clear from the files related to hospitals, which remain stuck in the secretariat for months," he was quoted as saying in a statement.
Kejriwal reviewed the functioning of hospitals in a meeting with Health Minister Satyendar Jain, department officials and the MLAs of respective areas.
He also expressed "unhappiness over non-display or improper display of helpline 1031 in government hospitals premises," the statement said.
It was informed in the meeting that the file related to decentralisation of powers for hospitals has been "sent to Lt Governor Anil Baijal.
Kejriwal said he will take the initiative in getting this file cleared and talk to Baijal over the matter, it said.
"For further improvement in government hospitals in providing better health facilities for residents of Delhi, it is important to give more powers to the hospitals.
"This will help these institutions in the recruiting processes, according to their needs, and also in purchasing commodities according to their requirements," he said.
The approval of this proposal will allow the Rogi Kalyan Samitis (Patient Welfare Committees) of different hospitals to conduct purchases up to Rs 75 lakh, whereas the current limit was merely Rs 5 lakh, the statement said.
He also directed the RKS members to conduct inspections of their respective hospitals and find out the factual position about the status of diagnostic machines and requirements of hospitals.
Kejriwal also conducted a surprise inspection of the Guru Teg Bahadur (GTB) Hospital to take stock of facilities there.
He visited the pharmacy, emergency ward, general ward, paediatrics ward and ultrasound department and met attendants and patients.
It was found that there was a shortage of ultrasound machines in the hospital. Kejriwal directed the Health minister to look into this issue, the statement said.
He also ordered the chief secretary to take up the issue of filling up vacant posts of pharmacists on an urgent basis, within next 10 days. He also directed to open more pharmacy counter at the hospital.
Kejriwal also directed the health department to organise training for doctors for creating awareness about the Delhi government's scheme for a patients referral to a private hospital for some surgeries, in case there is waiting a period of over a month.