Delhi Doctors Strike Called Off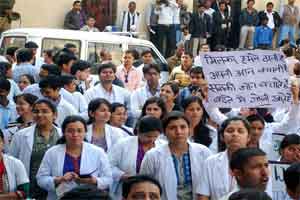 FORDA officially communicated the calling of the Doctors Strike to the Delhi health Ministry


20,000 resident doctors in Delhi have finally called-off their two-day strike and resumed their duties today. The strike is called off after assurances from both the Chief Minister Arvind Kejriwal and Delhi Health Minister Satyendra Jain assured them that their demands will be met at the earliest.



Assurances were also made on the doctors' demand for security and communication are now initiated to the L.G to direct Delhi Police to make necessary provisions.



The doctors strike is also called off, hours after Delhi government invoked the ESMA ( Essential Service Maintenance Act) against the doctors.