Delhi govt to come up with legal framework for errant hospitals: CM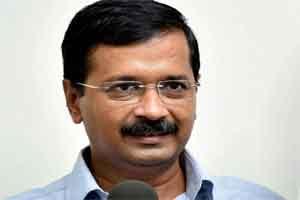 New Delhi: The Delhi government would come up with a legal framework to check the "loot" and "criminal negligence" by the private hospitals, Chief Minister Arvind Kejriwal said, in the wake of a premature baby being wrongly declared dead by a city hospital.
The chief minister said the Aam Aadmi Party (AAP) government had "succeeded" in restraining the private schools from arbitrarily deciding their fee structure, adding that a similar legal framework would be put in place in the health sector to take action against the errant private hospitals.
"We do not want to interfere in the functioning of the private hospitals, but if those suffering from ailments are looted and cheated and the hospitals are guilty of criminal negligence against them, being a responsible government, we will interfere in such cases," Kejriwal said.
Speaking at a function at the Maulana Azad Institute of Dental Sciences (MAIDS) here, he pointed out two recent incidents -- a private hospital charging Rs 15 lakh from a dengue patient and another hospital declaring an infant dead.
On December 1, the city government had ordered an inquiry into a case of alleged criminal negligence by the Max Hospital at Shalimar Bagh, after it surfaced that its doctors had declared an infant dead, who was found to be alive later.
"We will work on it (on the legal framework) and the government will try to ensure that there is no recurrence of such cases," Kejriwal, who was the chief guest at the 'Delhi Smiles - Dental Health Utsav, 2017' at the MAIDS, said.
On the occasion, Delhi Health Minister Satyendar Jain said the government would set up 100 dental clinics on the lines of the mohalla clinics.