Delhi HC directs MCI inspection report submission in prescribed form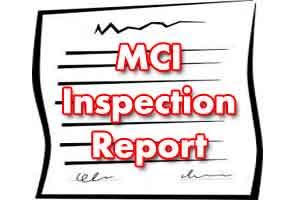 The Delhi High Court has directed the MCI to submit its inspection report of medical colleges in the prescribed form. The union government has been asked to intervene and take up the matter further with the MCI.

The court has also directed it to pass a fresh order on the request for renewal of admission for MBBS course in RKDF Medical College of Bhopal for 2015-16.

The court has challenged the denial of renewal of the college in its judgment delivered and has further said that the Centre would confine is area of inquiry to deficiency in faculty, deficiency in resident doctors and the inflated data of patients.

The court has clearly expressed that the huge deficiency which the MCI had reported regarding the resident doctors in the college did not appear to be correct. A committee constituted by the Union government had not closely examined the explanations tendered and the material supplied by the petitioner, it added

As reported by the Hindu, Quashing the Union government's order of September 28 this year denying renewal permission to the petitioner medical college, the court said the Centre, being the final administrative authority, was required to judge and appraise the conclusions reached by the MCI in the light of the material placed before it by the applicant institute.

While examining the deficiencies in medical colleges, both the MCI and the Centre should bear in mind that the refusal of permission, inter alia, ought not to be for "insignificant or technical violations", said the Bench of Justice Rajiv Shakdher, while referring to the observations made by the Supreme Court in two earlier cases.

The Bench said the petition was viable in so far as the academic year 2015-16 was concerned and the court had powers to give directions for making admission of students beyond the cut-off date of September 30 this year.