Delhi Noida Flyway: Delhi Doctor killed after truck crashes with ambulance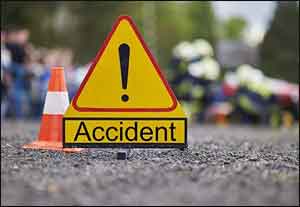 New Delhi: In an unfortunate incident, a 30-year-old doctor was killed after a truck hit an ambulance he was travelling in; to reach Safdarjung Hospital. An infant, who was on the ambulance had also died in the incident whereas three suffered major injuries.
As per the preliminary information was given by the police officials, the ambulance was carrying a patient from a Noida based private hospital to the Safdarjung Hospital in Delhi when it was hit by the truck.
The incident reportedly took place on the Delhi Noida Direct (DND) flyway
Police said that the ambulance hit the truck from behind resulting in the injury to all the six persons, of them, the doctor and a child succumbed to their injuries in the hospital. Meanwhile, the injured have been admitted to All India Institute of Medical Sciences (AIIMS), reports ANI.
A police official told IANS that a woman was among the three injured, who was also travelling in the ambulance at the time of the accident.
More details about the accident are awaited.
Medical Dialogues had recently reported about the unfortunate death of prominent orthopaedician and spine surgeon Dr Ketan Khurjekar, who was run over by a speeding luxury bus on the Mumbai-Pune Expressway in Maharashtra.
The doctor along with two other colleagues was returning to Pune from a medical conference in Mumbai along with their driver. Around 10.30 pm, Dr Khurjekar had got down on the road to help his cab driver to replace one of its punctured tyre near Somatane village. While the cab driver was changing the damaged tyre, a private bus coming on that side hit them from behind, the official said. Dr Khurjekar and the cab driver, Dnyaneshwar Bhosale(27), died on the spot, he said.
Read Also: Great loss: Renowned Orthopedician dies after being run over by speeding bus on highway