Delhi Orthopaedic Association holds its First Quarterly Meet 2016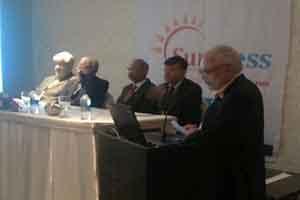 The first quarterly meet of Delhi Orthopaedic Association for the year 2016 was organized on 20th February 2016. The meeting was conducted in collaboration with the  department of Orthopaedics. Lady Hardinge Medical College and was held at Park hospital, in Delhi Delhi

The Quarterly meeting was concentrating on the theme of " Paediatric Orthopaedic Infections" including many of the difficult and rare infections seen in children have orthopaedic issues. Senior orthopaedic surgeons along with residents from Medical Colleges participated in this interactive 5 hour meeting bringing out problems and solutions related to Paediatric orthopaedic infections. The first session was on Tubercular infection, followed by a talk on rickets and ended with a session on pyogenic infections.

The session on tuberculosis highlighted the importance of having a tissue diagnosis and also to be on an alert for drug resistant cases. It was shared that there were multiple drug schedules present for treating tuberculosis however efforts are going on to have one standard drug protocol.

In the session on pyogenic infections cases were discussed on how to handle the complications and neglected cases. LHMC doctors shared few very difficult cases managed by indeginous methods and with very good outcome with long term follow up. As always it was heartening to see LHMC maintaining very high standards of patient care specially in the field of paediatric orthopaedics. The session ended with the announcement of few forthcoming events of Delhi Orthopaedic association.

Dr.Mukesh Kalra Moderating the session, With Chairpersons: Dr.Rajiv Jain, Dr,Arun Goel, Dr.Dusaj, Dr.Magzine Delegates attending the meeting with lots of interest.