Beverages harmful as they affect micro hardness of primary teeth enamel, Finds study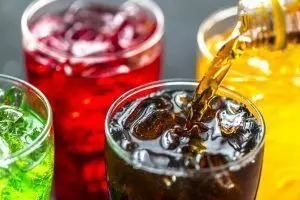 Soft drinks have many potential health problems. The inherent acids and sugars have both acidogenic and cariogenic potential, resulting in dental caries and potential enamel erosion.

Hence, all beverages are known to affect the microhardness of primary teeth enamel, finds a new study.
Soraya Cheier Dib Gonçalves and colleagues from the School of Dentistry of Ribeirão Preto, University of São Paulo, Ribeirão Preto, São Paulo, Brazil have conducted a research recently which aimed assess the effects of a soft drink, a soybean-based apple juice and strawberry juice on the superficial and deep microhardness of primary tooth enamel.
The study is published in the Journal of Dentistry for Children.
The authors studied a total of sixty primary teeth. All were divided according to the beverages and a control group (artificial saliva) was made. Immersion cycles were carried out under agitation (five minutes three times a day over 60 days).
Superficial microhardness measurements were taken after seven, 15, 30, 45, and 60 days. Teeth were cut for deep microhardness evaluation.
Analysis of variance and Tukey's test (95 percent confidence interval) were used for data analysis. Teeth were scanned by electron microscopy for quantitative analysis.
The study highlighted that the soybean drink led to a significant decrease in the superficial microhardness ( P <0.05) at all tested times. The decrease for the strawberry juice was steeper than for the soybean drink and the soft drink significantly decreased the superficial microhardness at all times. Furthermore, the soybean drink recorded lower surface deep microhardness values while the juice presented similar results to the soybean drink at a depth of up to 200 μm.
Also, there was a gradual and statistically significant increase at a depth of up to 300 μm with the soft drink. Scanning electron microscopy evaluation showed that all beverages had gradual demineralization, being evident on the 60th day; the soft drink showed the greatest overall loss of enamel.
This led the authors to conclude that all beverages affected the microhardness of primary teeth enamel. The soft drink was the most harmful to enamel among the assessed beverages.
Source : Journal of Dentistry for Children