Dry mouth lozenges, tablets may erode enamel and dentin, Study finds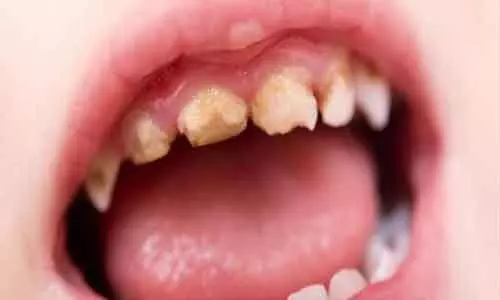 Dentists from the Division of Operative Dentistry, Department of Restorative Dental Science, University of Florida, College of Dentistry, Florida, USA have recently evaluated 11 oral moisturizers creating harmful environments in the oral cavity leading to tooth erosions, out of which nine of the products, including commercially distributed dry mouth lozenges and adhering discs were found to be acidic, with a pH less than 7, leading to tooth erosion.
The study is published in the Journal of Dentistry.
There is a large variation in the composition, pH, and titratable acidity of dry mouth tablets and lozenges. Hence, Alex Delgado and colleagues carried out this study to assess the erosive potential of dry mouth lozenges and tablets on enamel and dentin.
The following lozenges and tablets were tested: Salese, Oracoat Xylimelts, Cotton Mouth, TheraBreath, DenTek OraMoist, SmartMouth, ACT, CVS Health, Rite Aid, Med Active, and Hager Pharma. Their pH Analysis was done. Each lozenge or tablet was crushed with a pestle and mortar and 5 g of the resultant powder was dissolved in 10 ml of distilled water (pH 7.02) The pH of each lozenge solution was assessed by using a calibrated pH meter. Titratable Acidity (TA) was determined by adding 0.1 M of NaOH to each homogenous tablet solution until the pH reached 7.0. Gravimetric Analysis was measured with freshly extracted molars crown/roots were sectioned at the CEJ and enamel and dentin specimens were fabricated. The specimens were then submerged in 5 ml of a solution containing 2.5 gm of crushed tablets for 24 h, 48 h, 96 h, and 14 days with measurements performed at each interval after drying. The solutions were renewed at each interval.
The authors found out that there is a significant correlation between pH and TA was observed for lozenges and tablets evaluated (p < 0.0001). Both variables were strongly correlated with enamel and dentin loss (p < 0.0001). For enamel, DenTek resulted in significantly more substance loss (p < 0.05) than with the other tested products, while Xylimelts presented the lowest percentage of substance loss. For dentin, Cotton Mouth resulted in the highest substance loss, and Xylimelts presented the lowest percentage of substance loss, they added.
Hence, it was concluded that "There is a strong correlation between the pH, titratable acidity, and erosive potential of these products. DenTek and Cotton Mouth reported erosive effects on the enamel and dentin, respectively. Xylimelts performed better than the rest of the products in relationship to enamel and dentin."
Source : Journal of Dentistry