Long term xerogenic medication use linked to tooth wear, Study Finds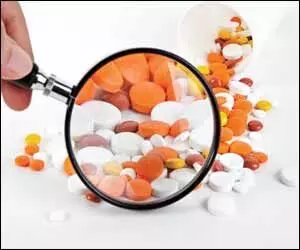 Dentists have found that the current use of xerogenic medication showed associated with the presence of tooth wear. This association was accounted for by subjective indicators of oral dryness, according to the study published in the Journal of Dentistry.

Although the presence of saliva has been widely recognized as being preventive for caries, there is still contention over the importance of salivary flow and the composition when protecting against tooth wear. Studies investigating the relationship between tooth wear and conditions which cause salivary gland hypofunction and changes in composition, e.g. radiotherapy-induced xerostomia, have tended to observe relationships between inhibited salivary parameters and tooth wear
Medications with anticholinergic, antimuscarinic, antiadrenergic, or sympathomimetic actions are known to interfere with either the production of saliva or with the secretion of the produced saliva. Therefore, Hend A.A. Alwaheidi and colleagues from the Faculty of Dentistry, Oral & Craniofacial Sciences, King's College London, London, United Kingdom conducted this study investigated the association between xerogenic medication use and tooth wear in a nationally representative sample of American adults, and whether this association was explained by subjective oral dryness.
The authors used data from 3578 adults who participated in the National Health and Nutritional Examination Survey (NHANES). Tooth wear was clinically determined using the modified Tooth Wear Index. Information on xerogenic medication use, subjective oral dryness (amount of saliva in the mouth and feeling the mouth dry when eating), and potential confounders (sociodemographic factors, dental insurance coverage, gastroesophageal reflux disease medication use, and soft drinks intake) were self-reported. The associations among xerogenic medication use, subjective oral dryness, and tooth wear were assessed in regression models adjusting for confounders.
The following results were highlighted-
Adults taking xerogenic medication had greater odds of reporting too little amount of saliva and feeling the mouth dry when eating.
In addition, participants taking one and multiple (two or more) xerogenic medications had, respectively, 1.53 and 1.44 greater odds of having tooth wear than those taking no xerogenic medications.
In a regression model including all explanatory variables, the association of xerogenic medication use with tooth wear was fully attenuated whereas subjective oral dryness (amount of saliva in the mouth but not feeling the mouth dry when eating) remained positively associated with prevalence of tooth wear.
Hence, the authors concluded that "dentists should be familiar with the possible connection between a patient's medical prescription and tooth wear. Changing prescriptions to non-xerogenic alternatives, whenever possible, could improve patients' oral condition. The findings also suggest that patients may recognize, through the perception of dry mouth, when medication is placing them at risk."
Source : Journal of Dentistry