Personalized music intervention reduces burden of care during dental implant surgery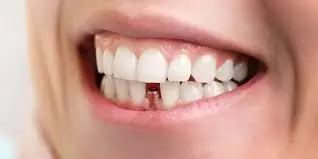 Personalized music intervention is tied to decreasing patients' burden of care during dental implant surgeryaccording to a recent study published in the Journal of Dentistry.

A study was conducted to explore a personalized musical intervention's effect on the burden of care during dental implants placement.
Randomized Controlled Trial in 24 dental implant surgery patients. A personalized music intervention (Music Care© application) or an audiobook control condition was administered. The burden of care (a composite outcome including self-reported anxiety, pain, and dissatisfaction felt during surgery), expected pain prior to surgery, pre-and post-surgery affect, the memory of pain felt during surgery, and participants' emotional judgments of the music and audiobook listening were assessed.
The results of the study are:
The personalized music intervention significantly reduced the burden of care for dental implant surgery (p = 0.02; d = 1.07). Both groups reported positive affect after surgery, but the music group felt better. The pain remembered after seven postoperative days was significantly lower in the music group (p = 0.02). Participants judged the music listened to during surgery as more relaxing and pleasant than the audiobook (p = 0.002 and p = 0.001, respectively).
Thus, personalized music intervention could be effective in decreasing patients' burden of care during dental implant surgery. These results need to be confirmed by a rigorous randomized control trial. The burden of care associated with the pain and anxiety experienced during dental implant surgery can be reduced using a personalized and standardized music intervention. This approach may provide a simple complementary approach to improve surgical care in various settings.
Reference:
Effect of personalized musical intervention on the burden of care in dental implant surgery: A pilot randomized controlled trial by Morgana Bertacco et al. published in the Journal of Dentistry.
https://www.sciencedirect.com/science/article/abs/pii/S0300571222001488
Keywords:
Personalized, Effect, musical intervention, burden of care, dental implant surgery, Morgana Bertacco,Orelle Soyeux, Robert Durand, Pierre Boudrias, Lorne Wiseman, Pierre Rompré, Pierre Rainville, Elham Emami, Nathalie Gosseli, Randomized controlled trial, Music intervention, Anxiety, Pain, Dental implant
Source : Journal of Dentistry BDS
Dr. Shravani Dali has completed her BDS from Pravara institute of medical sciences, loni. Following which she extensively worked in the healthcare sector for 2+ years. She has been actively involved in writing blogs in field of health and wellness. Currently she is pursuing her Masters of public health-health administration from Tata institute of social sciences. She can be contacted at editorial@medicaldialogues.in.