Visual distraction most effective for reducing dental fear pediatric patients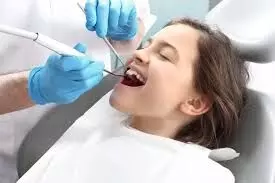 Researchers have found that Visual distraction (VR) was found to be the most effective while Tell-Show-Do alone was the least effective behavior guidance technique in reducing dental fear/anxiety in uncooperative pediatric dental patients.

The study is published in the Journal of Indian Society of Pedodontics and Preventive Dentistry
Dental fear or anxiety is one of the major causes of uncooperative behavior and avoidance of dental treatment in children, which has been portrayed as a painful procedure, and therefore, children are more prone to develop fear either due to social factors or previous unpleasant experiences.
The American Academy of Pediatric Dentistry has outlined various behavior guidance techniques to deal with the problem, ranging from conventional Tell-Show-Do (TSD), voice control, to distraction. Distraction techniques, in the recent past, have gained immense popularity among pediatric dentists in managing uncooperative children. These techniques work by diverting the patient's attention from what may be experienced as an unpleasant stimulus.
Hence, Pratik Pande and his associates from the Department of Pediatric and Preventive Dentistry, Subharti Dental College and Hospital, Swami Vivekanand Subharti University, Meerut, Uttar Pradesh, India conducted the present study to compare and evaluate the effectiveness of four different behavior guidance techniques in managing uncooperative pediatric patients by measuring pre- and post-operative dental fear/anxiety levels using physiological and nonphysiological parameters.
Since the last few years, an increase in behavioral research through virtual reality (VR) and the virtual world has been witnessed. Depending on the immersiveness of the presented stimuli, the attention of the person will be more or less "drained" from the real world, leaving less attention to the real-world processes, including painful stimuli. VR distraction engages and integrates many sensory experiences, thus capturing a greater degree of attention. Therefore, the attention of the child is more focused on what is happening in the virtual world rather than the surrounding environment.
The authors systemically selected Sixty healthy children aged 5–8 years with negative behavior as per Frankl's Rating Scale, requiring restoration. They were randomly divided into four equal groups each with 15 children, based on the guidance techniques used: Tell-Show-Do (TSD) as a control group and audio distraction, audiovisual distraction (AVD) (virtual reality [VR]) and Mobile Phone Game Distraction as test groups.
Pre- and post-intervention levels of the child's fear/anxiety were assessed using both physiological (blood pressure and pulse rate) and nonphysiological (facial image scale) parameters.
The authors noted that there was a statistically significant difference in both physiological and non-physiological parameters post-intervention in the groups with a maximum decrease in the AVD (VR) group.
As a result, within the limitation of the study, the authors drew the following conclusions:
Among the four behavior guidance techniques used in the study, the AVD (VR) proved to be the most effective technique for reducing dental fear/anxiety in children with negative behavior requiring dental treatment
TSD alone was not found to be a very effective behavior guidance technique for child dental patients showing negative behavior
The efficacy of various behavior guidance techniques were observed in decreasing order as- AVD (VR) > Mobile Phone Game Distraction > AD > TSD (Control).
Source : Journal of Indian Society of Pedodontics and Preventive Dentistry