Revisiting Paracetamol Ibuprofen in dentistry: The time tested combination in managing inflammation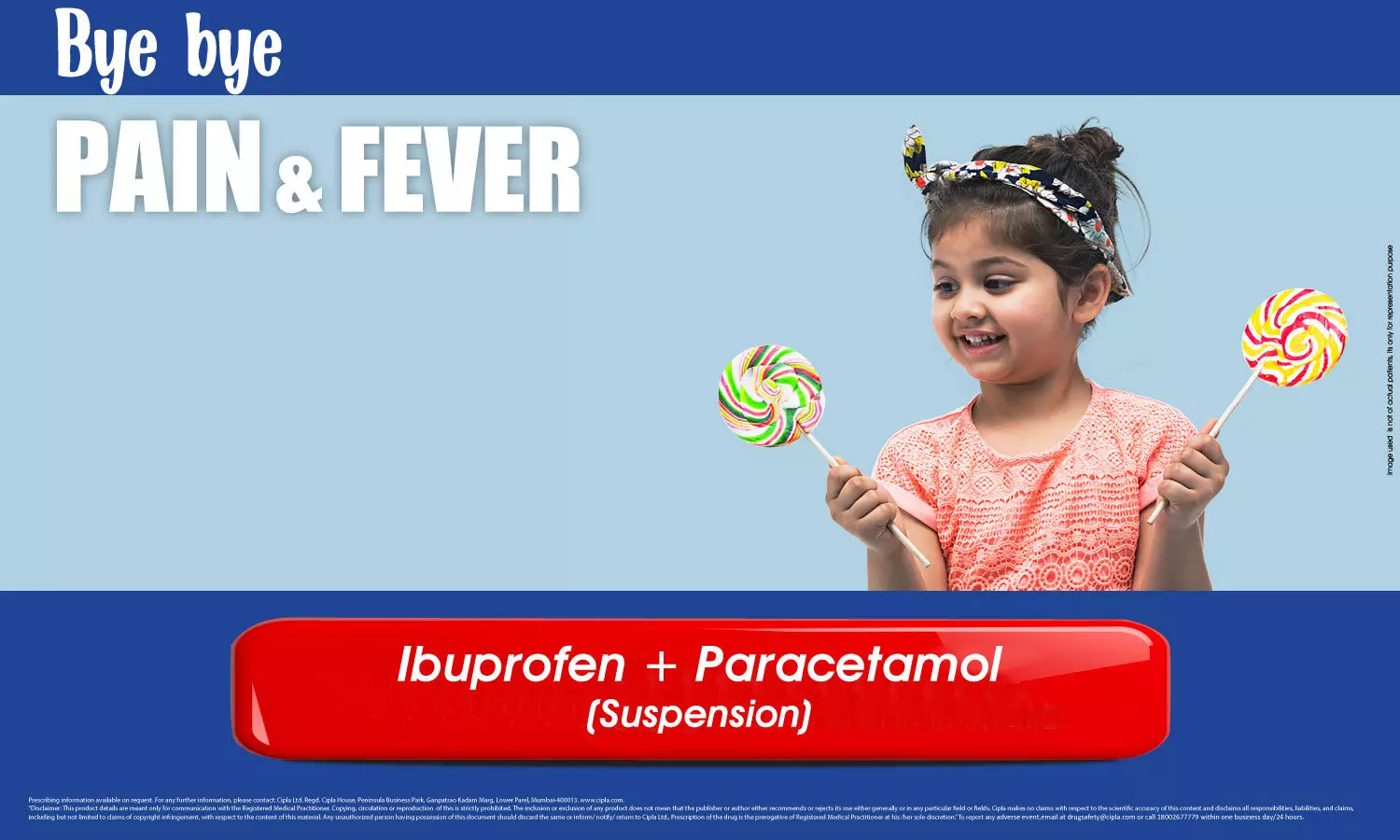 Efficient management of pain and inflammation in dentistry is a major cornerstone in predicting the success of the treatment. Timely control of pain increases patient compliance and cooperation (1), placing dentists in a position to deliver their best in the dental chair.

Odontogenic inflammation and pain are interrelated; with recent evidence highlighting that it may vary from mild to severe, and can mimic excruciating neuropathic pain (2). With studies reporting that 1 in every 6 patients visit a general dentist with acute orofacial pain (3), an effective, safe, and well-tolerated analgesic -anti-inflammatory drug combination is the need of the hour.
Delving deep into the potency of analgesic and anti-inflammatory drugs used in dentistry, Acetaminophen (APAP) –Ibuprofen (IBP) has exhibited unmatched superiority (4, 5,6) for ages. It is extensively documented that multiple dosed drug combinations of acetaminophen –ibuprofen leads to a greater reduction of odontogenic inflammation, along with its associated symptoms, than either of the drugs used alone (7,8). With recent guidelines recommending combinations of acetaminophen and a nonsteroidal anti-inflammatory drug (NSAID) for postoperative pain control in most types of surgeries (9), the role of this drug combination in pre and post-operative odontogenic pain needs to be re-evaluated.
This article reviews the pharmacokinetics of the 2 drugs, their efficacy in fighting the inflammatory process as dual therapy, prescribing habits of the combination among dentists, while simultaneously elaborating the major supporting studies.
Mechanism of action
Acetaminophen- Commonly known as Paracetamol, is the most widely used analgesic and antipyretic agent, in both prescribed and OTC forms (10). Acetaminophen works by suppressing a sub-class of COX enzyme isoforms in the CNS, inhibition of the L-arginine nitric oxide pathway, and/or activation of central serotonergic pain inhibitory pathways (11). Owing to its negligible anti-inflammatory activity, this drug as a monotherapy does not suffice in cases of inflammation.
Ibuprofen- Graded as a non-steroidal anti-inflammatory drug (NSAID), Ibuprofen inhibits the cyclooxygenase (COX)-1 and COX-2 enzymes, subsequently blocking the synthesis of pro-inflammatory prostaglandins, which are responsible for triggering the pain pathway. (12)
In dental pain models, treatment with this dual drug therapy has produced greater analgesia than the same dose and even higher doses of each monocomponent(4,13,14). Owing to an established ceiling effect for analgesia efficacy noted with this dual drug therapy, no further analgesic effect occurs at single doses above these thresholds (15). This further resonates with the supreme potency of Acetaminophen -Ibuprofen in providing relief of mild-to-moderate acute pain and fever.
Acetaminophen Ibuprofen Combination therapy: A Boon for dentists in the 21st century
As the world witnesses a rising risk of opioid crisis, researches focusing on the use of lowest possible drug dosages and multimodal analgesia is emerging to be the standard principle in managing acute dental pain. (16)
An extensive body of evidence suggests that combination APAP and IBP leads to an additive or synergistic efficacy (17) which can't be achieved with monotherapy. The fact that there remains a very meager opportunity for drug-drug interactions owing to their distinct metabolic pathways (12), is an added advantage.
Studies supporting the efficacy of the combination have been summarised below-
The first 48 hours post-surgery is regarded to be a clinically relevant period as patients experience frequent, acute bouts of pain and inflammatory symptoms during this period. (18) Different dose strengths of the dual therapy have revealed a much showed better pain relief, beginning at 30 min post-dose.(4)
• A recent pooled analysis by Jiangfeng Su et al has confirmed that IBU/APAP demonstrated efficacy similar to that achieved with higher doses of its monocomponent while potentially providing more rapid onset of action (19). This finding was supported by a study by A. F. Merry and the team who observed that patients using the combination of Acetaminophen and Ibuprofen experienced less pain during the first 48 h after oral surgery than those using the same daily dosage of either agent alone.(4)
• Studies have further reported that median time to use of rescue medication when treated with Ibuprofen + Paracetamol combination, at both the 200/500 mg and 400/1000 mg doses, resulted in longer times to remedication when compared with placebo (14). This highlights the fact that patients experience a longer pain-free period when using the combined therapy.
• Studies have noted that combined administration of APAP and IBP provides similar efficacy to low-dose opioid analgesia comparable to codeine, hydrocodone, and oxycodone while providing a significant opioid-sparing effect (17). Addressing this issue further, in a recent breakthrough study, researchers have concluded that this combination provides an even better pain control than opioids (6), busting the myth that opioids are the last resort in combating severe pain.
• In another study by Stephen E. Daniels (20), researchers noted that after surgical removal of at least 2 impacted third molars, a superior analgesic effect was provided by dual therapy concerning onset of meaningful pain relief, maximum VAS pain scores, response rate, percentage of patients requiring rescue medication, time to the first dose of rescue medication, cumulative consumption of rescue medication, and categorical pain relief score.
How often do dentists advocate this combo?
It has already been affirmed that Acetaminophen –Ibuprofen combination is the most preferred drug therapy to manage pain among dentists worldwide (21). A recent survey (22) investigating the preferred analgesic and anti-inflammatory drugs prescribed by dentists after oral implant surgery, has noted that the prescribing habits of Indian dentists are mostly in accordance to the guidelines for pain management followed worldwide. The most common prescription pattern was the use of Ibuprofen in combination with Paracetamol. No dentist prescribed Paracetamol alone as an analgesic drug.
Safety and tolerability profiles- While Acetaminophen and Ibuprofen, when used in high doses for chronic periods, have been linked to hepatic injury and gastric bleeding, using a combination of both, lowers the risk of such adverse events, and increases the potency without transgressing the maximum daily doses of individual components.(4)
An integrated safety analysis by Phillip Aitken et al (17) aimed to determine if treatment with a fixed-dose combination (FDC) containing APAP and IBP results in any unexpected adverse events or changes in the safety profiles of its two ingredients compared to monotherapy. The study concluded that the combination is well tolerated and has an excellent safety profile at single and multiple doses, with improved efficacy over monotherapy. The authors further affirmed that significantly fewer patients needed to use rescue medication with the dual therapy.
In yet another exploratory study (23) during which patients received the maximum OTC doses of the combination therapy for 48 weeks demonstrated good tolerability, even with chronic use.
Key pointers-
Dentists are among the first physicians to handle orofacial pain and inflammation. This warrants for an in-depth knowledge of the Acetaminophen –Ibuprofen drug combination among the dentists, to utilize its limitless benefits.
• Rational use of drugs aimed at reducing the adverse effects of each component without compromising on effectiveness is of foremost importance.
• Acetaminophen –ibuprofen dual therapy exceeds the analgesic and anti-inflammatory potentiality of monotherapy, therefore should be considered as a first choice in managing pre, peri, and post-operative dental pain.
• Exhibiting minimum drug-drug interactions, a high opioid-sparing effect, and an even better pain control than opioids, dentists unanimously agree on advocating this drug therapy, in various doses, for mild, moderate, and severe odontogenic pain.
Conclusion- The immense literature supporting the extraordinary efficacy, compliance, safety, and tolerability of Acetaminophen –Ibuprofen drug therapy in fighting dental pain and inflammation has been the impetus behind its widespread use and acceptability among the dental fraternity. With growing research reinforcing multimodal analgesia as the need of the hour, this dual therapy has the potential to make its way as the 'golden standard' antipyretic –analgesic anti-inflammatory among dentists.
References
1. Wells N, Pasero C, McCaffery M. Improving the Quality of Care Through Pain Assessment and Management. In: Hughes RG, editor. Patient Safety and Quality: An Evidence-Based Handbook for Nurses. Rockville (MD): Agency for Healthcare Research and Quality (US); 2008 Apr. Chapter 17. Available from: https://www.ncbi.nlm.nih.gov/books/NBK2658/
2. Renton T. (2011). Dental (Odontogenic) Pain. Reviews in pain, 5(1), 2–7. https://doi.org/10.1177/204946371100500102
3. Horst OV, Cunha-Cruz J, Zhou L, Manning W, Mancl L, DeRouen TA. Prevalence of pain in the orofacial regions in patients visiting general dentists in the Northwest Practice-based REsearch Collaborative in Evidence-based DENTistry research network. J Am Dent Assoc. 2015 Oct;146(10):721-8.e3. doi: 10.1016/j.adaj.2015.04.001. Erratum in: J Am Dent Assoc. 2015 Dec;146(12):874. PMID: 26409981; PMCID: PMC7289192.
4. A.F. Merry, R.D. Gibbs, J. Edwards, G.S. Ting, C. Frampton, E. Davies, B.J. Anderson,
Combined acetaminophen and ibuprofen for pain relief after oral surgery in adults: a randomized controlled trial,British Journal of Anaesthesia,Volume 104, Issue 1,2010
5. Becker D. E. (2010). Pain management: Part 1: Managing acute and postoperative dental pain. Anesthesia progress, 57(2), 67–80. https://doi.org/10.2344/0003-3006-57.2.67
6. Paul A. Moore, Kathleen M. Ziegler, Ruth D. Lipman, Anita Aminoshariae, Alonso Carrasco-Labra, Angelo Mariotti. Benefits and harms associated with analgesic medications used in the management of acute dental pain. The Journal of the American Dental Association, 2018; 149 (4): 256 DOI: 10.1016/j.adaj.2018.02.012
7. Pozzi, A., & Gallelli, L. (2011). Pain management for dentists: the role of ibuprofen. Annali di stomatologia, 2(3-4 Suppl), 3–24.
8. Moore PA, Hersh EV. Combining ibuprofen and acetaminophen for acute pain management after third-molar extractions: translating clinical research to dental practice. J Am Dent Assoc. 2013 Aug;144(8):898-908. doi: 10.14219/jada.archive.2013.0207. PMID: 23904576.
9. Ong CK, Seymour RA, Lirk P, Merry AF. Combining paracetamol (acetaminophen) with nonsteroidal antiinflammatory drugs: a qualitative systematic review of analgesic efficacy for acute postoperative pain. Anesth Analg. 2010 Apr 1;110(4):1170-9. doi: 10.1213/ANE.0b013e3181cf9281. Epub 2010 Feb 8. PMID: 20142348.
10. Gerriets V, Anderson J, Nappe TM. Acetaminophen. [Updated 2021 Jul 3]. In: StatPearls [Internet]. Treasure Island (FL): StatPearls Publishing; 2021 Jan-. Available from: https://www.ncbi.nlm.nih.gov/books/NBK482369/
11. Graham GG, Scott KF. Mechanism of action of paracetamol. Am J Ther. 2005 Jan-Feb;12(1):46-55. doi: 10.1097/00045391-200501000-00008. PMID: 15662292.
12. Mazaleuskaya, L. L., Theken, K. N., Gong, L., Thorn, C. F., FitzGerald, G. A., Altman, R. B., & Klein, T. E. (2015). PharmGKB summary: ibuprofen pathways. Pharmacogenetics and genomics, 25(2), 96–106. https://doi.org/10.1097/FPC.0000000000000113
13. Daniels SE, Atkinson HC, Stanescu I, Frampton C. Analgesic efficacy of an acetaminophen/ibuprofen fixed-dose combination in moderate to severe postoperative dental pain: a randomized, double-blind, parallel- group, placebo-controlled trial. Clin Ther. 2018;40(10):1765–1776.
14. Derry CJ, Derry S, Moore RA. Single dose oral ibuprofen plus paracetamol (acetaminophen) for acute postoperative pain. Cochrane Database Syst Rev. 2013:(6):CD010210.
15. Hahn TW, Mogensen T, Lund C, Jacobsen LS, Hjortsoe NC, Rasmussen SN, Rasmussen M. Analgesic effect of i.v. paracetamol: possible ceiling effect of paracetamol in postoperative pain. Acta Anaesthesiol Scand. 2003 Feb;47(2):138-45. doi: 10.1034/j.1399-6576.2003.00046.x. PMID: 12631041.
16. Washington State Agency Medical Directors' Group(AMDG). Interagency Guideline on Prescribing Opioids for Pain,2015.
17. Aitken, P., Stanescu, I., Playne, R., Zhang, J., Frampton, C., & Atkinson, H. C. (2019). An integrated safety analysis of combined acetaminophen and ibuprofen (Maxigesic ® /Combogesic®) in adults. Journal of pain research, 12, 621–634. https://doi.org/10.2147/JPR.S189605
18. Gupta, A., Kaur, K., Sharma, S., Goyal, S., Arora, S., & Murthy, R. S. (2010). Clinical aspects of acute post-operative pain management & its assessment. Journal of advanced pharmaceutical technology & research, 1(2), 97–108.
19. Su J, Leyva R, Kellstein D, Cruz-Rivera M, Meeves S. Safety and tolerability of fixed-dose combinations of ibuprofen and acetaminophen: pooled analysis of phase 1-3 clinical trials. Postgrad Med. 2021 Jun;133(5):565-571. doi: 10.1080/00325481.2021.1912466. Epub 2021 Apr 26. PMID: 33821768.
20. Daniels SE, Atkinson HC, Stanescu I, Frampton C. Analgesic Efficacy of an Acetaminophen/Ibuprofen Fixed-dose Combination in Moderate to Severe Postoperative Dental Pain: A Randomized, Double-blind, Parallel-group, Placebo-controlled Trial. Clin Ther. 2018 Oct;40(10):1765-1776.e5. doi: 10.1016/j.clinthera.2018.08.019. Epub 2018 Sep 21. PMID: 30245281.
21. Viola TA. Combination ibuprofen and acetaminophen analgesic products for dental pain management. Gen Dent. 2013 Nov-Dec;61(7):14-5. PMID: 24192727.
22. Datta R, Grewal Y, Batth JS, Singh A. A survey of analgesic and anti-inflammatory drug prescription for oral implant surgery. Plast Aesthet Res 2015;2:51-55. http://dx.doi.org/10.4103/2347-9264.153194
23. AFT Pharmaceuticals, Ltd. A clinical trial to study the effects of Maxigesic (paracetamol 500mg + ibuprofen 150 mg) with the other 3 treatment groups (paracetamol 500 mg; low dose ibuprofen 150 mg; high dose ibuprofen 300 mg) in patients who have painful osteoarthritis of the knee. 2009. Available from: http://ctri.nic.in/Clinicaltrials/pmain-
det2.php?trialid=362&EncHid=&userName=CTRI/2009/091/000096. Accessed August 20, 2018.