Favipravir induced Acute generalized exanthematous pustulosis: 1st case reported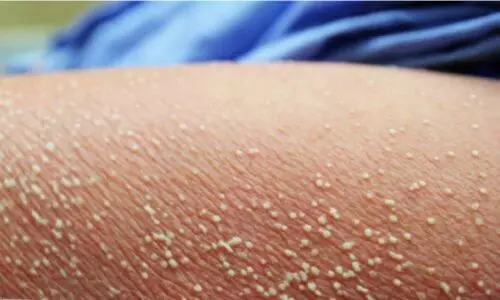 Acute generalized exanthematous pustulosis (AGEP) post favipravir for COVID-19: 1st case reported

Favipravir is a synthetic prodrug initially used against influenza A and B viruses. It has now come into focus due to its use against SARS-COV2 virus. Cutaneous adverse events to this drug are rare with pruritus and eczema being the major adverse effects. AGEP has been reported in COVID-19 patients mostly due to hydroxychloroquine and β-lactam antibiotics. First case report of AGEP secondary to favipiravir was reported in the Journal of Cosmetic Dermatology.
A 20-year-old male was admitted for fever and rapid onset, mildly itchy erythematous, edematous plaques involving the trunks and proximal extremities with grouped pustular lesions on an edematous-erythematous background. Patient was diagnosed with COVID-19 infection 16 days back and favipiravir monotherapy was administered with a loading dose of 1600 mg bid, followed by 600 mg bid daily for 7 days with complete resolution of symptoms. Patient had not taken any drugs other than favipiravir in the last 8 weeks.
Laboratory tests showed neutrophilic leukocytosis (white blood cell count: 20 390/mm3, neutrophil count: 16 620/mm3). Blood, urine and pustule cultures were negative for bacteria. Histologic examination from the abdominal lesions showed acanthosis of the epidermis with numerous neutrophilic subcorneal/intracorneal spongiotic pustules with papillary dermal edema. Dermis showed mixed inflammatory infiltrate composed of lymphocytes, neutrophils, and rare eosinophils. Based on findings patient was diagnosed with favipiravir-induced AGEP, and 1 mg/kg/day systemic prednisolone treatment was initiated. The lesions resolved with desquamation after 7 days of treatment.
This case presented with AGEP 16 days after treatment which was a longer latency period compared to AGEP reported in COVID-19 infected patients in the recent literature. It was hypothesized by the authors that combination of favipiravir and genetic disposition with COVID-19 induced cytokine storm led to delayed development of AGEP in the case reported
Thus this report emphasizes an unreported possible side effect of favipravir, a new agent which has become widely used during pandemic and dermatologists ad physicians should keep this agent as a causative factor for AGEP when dealing with skin findings.
Source- Atak MF, Farabi B, Akbayrak A, Kalelioğlu MB, Rao BK. Acute generalized exanthematous pustulosis following treatment with favipiravir in a patient with COVID-19 without hydroxychloroquine use: Report of the first case. J Cosmet Dermatol. 2021 Aug;20(8):2387-2389. doi: 10.1111/jocd.14304. Epub 2021 Jun 27. PMID: 34139069.
Source : Journal of Cosmetic Dermatology